Standard Chartered Ultimate credit card as the name goes by is the topmost card offering from the SCB and offers an exceptional reward rate on all your spending. The point of difference between this card as compared to other Super-Premium cards is that this card rewards you on spend categories without any exclusions.
SC is currently offering this card on Visa Infinite and MC World platforms and both have their own perks. You can go for the MasterCard World for its extensive lounge network or else you can ask for the Visa Infinite to reap the benefits of BookMyShow BOGO offer.
Let's check out all that this card brings to the table!
Charges and Welcome Benefits
| | |
| --- | --- |
| Joining Fees | ₹5000 + GST |
| Welcome Benefits | 6000 Reward Points |
| Renewal Fees | ₹5000 + GST |
| Renewal Benefits | 5000 Reward Points |
| Renewal Fee Waiver | NA |
1 reward point = ₹1.
The 6,000 reward points will be credited within 60 days after the realization of the joining fees by the bank.
Overall you get to lose ₹900 worth of GST every renewal as the renewal benefits don't match the fees paid for renewal.
Reward Accrual
| | |
| --- | --- |
| Spends Area | Reward Rate |
| All retail spends | 5 Reward points/₹150 ~ 3.33% |
1 Reward Point = ₹1.
Retail spending includes fuel, wallet loads, insurance, and even rent payments that too without any capping!
Rewards points have an expiry of 3 years from the date of accrual.
So you can see that this is a so fuss-free card which even makes our most loved TechnoFino Maximum column redundant. Interestingly points are credited even if you are spending in multiple of ₹30 and you don't get to lose points on spending lesser than ₹150 which is great.
Reward Redemption
The best value of its redemption lies in its Gift Vouchers since the rest of the products are mostly available on MRP and you get to lose the discounts that online stores offer. Standard Chartered Ultimate reward points can be converted to brand vouchers in a 1:1 ratio from a vast catalog. Popular options include
Croma
Tanishq
Bluestone
Nykaa
Pepperfry
Air Vistara Purple Ticket
Marriott Bonvoy
Taj Hotels
ITC Hotels and the list goes on. . .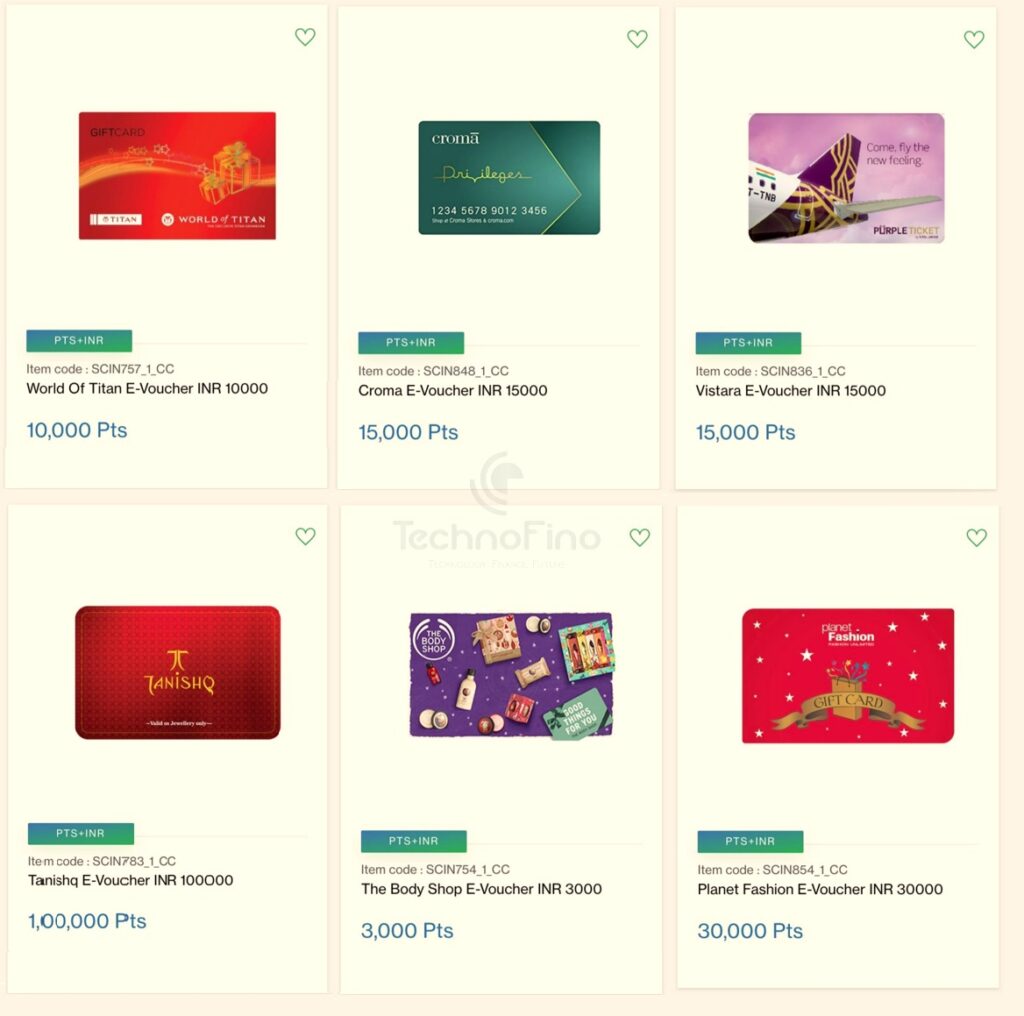 I know you were looking for a cash equivalent Amazon voucher in this list 😉 but to your disappointment Amazon and even Flipkart are not among the available redemption options. The most popular redemption usually is Croma due to the value it delivers as they do a price match with Amazon.
If you are not interested in buying electronics then you can simply redeem for Bluestone vouchers and use them to buy gold coins.
Also, you can use Marriott Bonvoy vouchers and redeem them for your hotel stays and earn membership points along with all the complimentary privileges assigned to you as per your loyalty status level. Nykaa is another good option that can give you good value since it hardly runs any bank offers.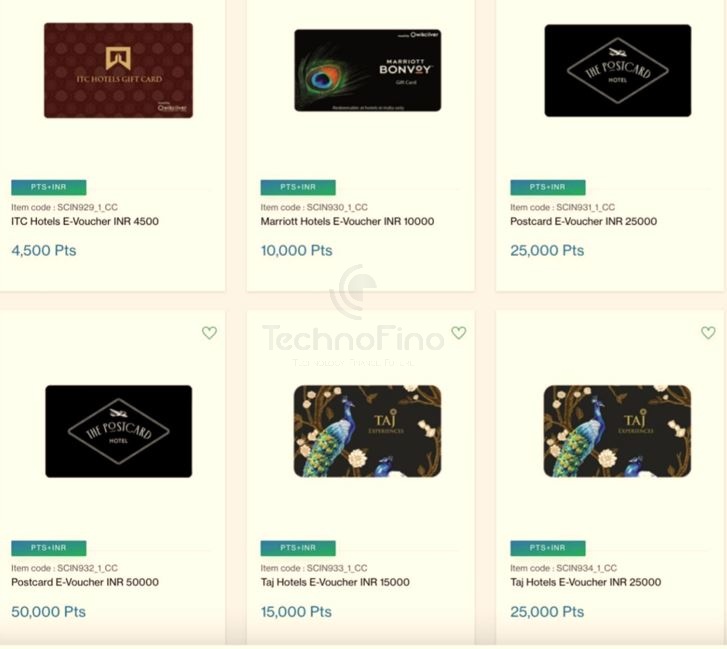 TechnoFino Tip: Since this card carries a redemption fee of ₹99 + GST so it is smarter to redeem points in bulk for a bouquet of required brand vouchers as per your need in a single redemption order.
Lounge Access
Domestic: 4 Complimentary Visits/Quarter.
International: Primary and Supplementary card holders are eligible for 1 complimentary international lounge access per month via Priority Pass but it is conditional.
To qualify for complimentary PP visits you have to spend more than ₹20,000 in the previous month on the card which is a downer for a card of this stature.
Golf Access
1 complimentary Golf game per month, per valid cardholder, and this benefit is non-transferable.
1 complimentary coaching session per month for the cardholder.
Duty Free Cashback
This is a unique offering by Standard Chartered on this card in which it offers 5% cashback on duty-free transactions at the various airports with a maximum limit of ₹1000 per month.
Forex Markup Charges
All overseas transactions are levied with a 3.5% transaction fee. Cardholders are eligible for a cashback of 1.5% of the transaction fee amount on overseas transactions. The cashback amount effectively reduces the forex mark-up charged to 2% + GST.
Cashback will be credited within 60 days from the date of the transaction.
Fuel Surcharge Waiver
A fuel surcharge waiver is not applicable but you get to earn unlimited rewards on fuel spending.
How to apply?
The eligibility criteria for this card:
₹24L Per Annum ITR
Existing credit card with a limit of ₹4L for a card-to-card basis application.
The smoothest way to get hands-on with this card is if you are an existing SC credit card holder with a ₹4L limit then you can apply directly online without any documentation and get the card delivered to you within a week or two. And if you applying basis on another bank's card then better proceed with a call to the bank as online applications are being rejected by quite a number.
Standard Chartered Bank is highly inclined towards listed employers and hence getting a card for a self-employed person is highly difficult. So keep this in mind before applying for a card and later repenting for your CIBIL getting that hit.
TechnoFino Recommends
This card gives direct competition to HDFC Infinia and HDFC Diners Club Black since the base reward rate is the same. The difference in the accumulation part is that HDFC doesn't reward fuel spending and caps rewards on insurance payments. Also recently it has capped rewards on rent payments as well whereas all this is not there with SC Ultimate which makes it the ultimate cashback card.
The other difference lies in the redemption since with the above HDFC twins you will get the face value of the points only if redeemed for hotel/flight bookings that too for 70% of the amount or more than that if you prefer miles. But if you go for voucher redemptions this value gets reduced to 50p a point whereas with Ultimate you get to redeem at a rupee per point and with so many travel redemptions options available it's even more hard to take the call.
With the recent serial HDFC Smartbuy devaluations this card is making even more sense as the competition has become quite fierce especially for your Amazon spends. Even after the recent devaluation, I would say that HDFC Smartbuy is still the most rewarding platform and should be used extensively at every opportunity you get. Further, I would recommend you to hold this card if you can manage to get it and use it for all your spending on the categories mentioned above where HDFC twins fail to reward you.

Do you already hold the SC Ultimate card or planning to get it? Feel free to share your experiences in the comments below.
Chief Editor, TechnoFino.
Personal finance nerd! Physics enthusiast and trainer. When I am not into Physics, I am minting points and hunting for the next credit card for myself. I can help you choose the best credit card for you!