Editor's note: This is a recurring post, regularly updated with new information and offers.
IDFC First Bank is the new entrant into the credit card industry and has created a buzz with the LTF credit card lineup and dynamic interest rates on revolving balances starting from as low as 9% P.A. All of the cards in the IDFC First Bank Credit Card lineup are totally LTF from their base variant of Millennia to top end Wealth Credit Card.
I am having a savings account with them since March 2020 and was kept out of their initial waitlist for credit cards launched in Jan 2021 but finally, I was offered IDFC First Bank credit card – Select Variant in the month of Feb 2021 with a limit of around 2.6L and I instantly grabbed it. Earlier their cards were limited to IDFC First Family only i.e. their savings account holder but now they are ready to include everyone in it. I am doing a detailed review of all the variants, their differences, eligibility criteria, and also the best way to apply for them.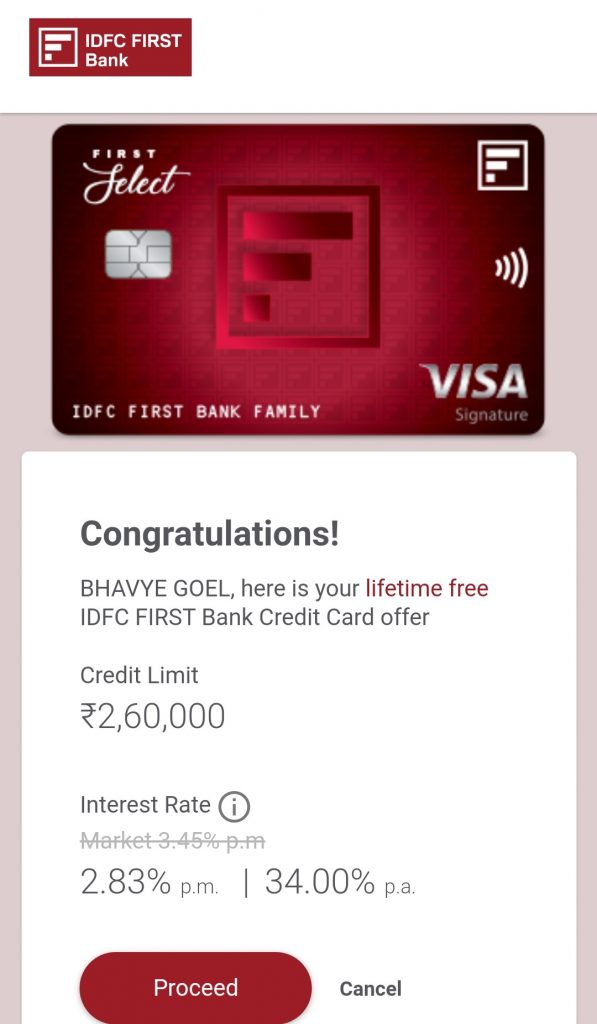 Charges and Welcome Benefits
| | |
| --- | --- |
| Joining Fee | None |
| Welcome Benefits | Welcome voucher worth ₹ 500 on spending ₹15,000 or more within 90 days of card issuance |
| Annual Fee | LTF |
Yes, all of their variants are unconditionally lifetime free!! The only thing surprising to me is that even their premium variants are LTF and give the same joining benefits which are also a first by any bank in India. I wish they could have given different spending targets and joining bonuses for different cards.

Apply now by clicking below!

Reward Points Accrual
Spends Area
Multiplier
Millennia/Classic
Select
Wealth
1) All Offline* Spends
2) Rental Payments
3X
3RP/ ₹150 ~ 0.5%
3RP/ ₹125 ~ 0.6%
3RP/ ₹100 ~ 0.75%
All Online* Spends
6X
6RP/ ₹150 ~ 1%
6RP/ ₹125 ~ 1.2%
6RP/ ₹100 ~ 1.5%
Birthday Spends
10X
10RP/ ₹150 ~ 1.66%
10RP/ ₹125 ~ 2.0%
10RP/ ₹100 ~ 2.5%
*Reward program not applicable on Fuel, Insurance, EMI transactions & Cash withdrawals.
Reward points have lifetime validity.
A reward redemption fee of ₹99 + GST is applicable from 1st October 2022.
After the recent devaluations, IDFC has created a hierarchy in the reward system which was very necessary since earlier there was no difference in whichever card you were holding except for the perks that I have explained below. Also with such a high fee as the redemption charge the wow factor of zero redemption fee is also gone now. So better encash all your rewards before 1st October 2022.
10X Rewards Program
IDFC Bank also offers a unique 10X reward rate on all incremental spends whether they are done online or offline. For example, if you hold a wealth card and you have spent 40K in a billing cycle then for the spending up to 30K you will receive normal reward rates of 3X and 6X which I have mentioned above, and 10X flat on the rest of the 10K amount irrespective of the category where you spend.
| | | |
| --- | --- | --- |
| Card Variant | 10X Threshold | Reward Rate |
| Millennia/Classic | ₹20,000 | 10RP/ ₹150 ~ 1.66% |
| Select | ₹25,000 | 10RP/ ₹125 ~ 2% |
| Wealth | ₹30,000 | 10RP/ ₹100 ~ 2.5% |
Also, keep in mind that Rental and Property management transactions will not be a part of the 10X reward program and 10X threshold calculations. However, such transactions will earn 3X reward points.
Reward Points Redemption
1 Reward Point = ₹0.25p
Reward redemption charges are absolutely zero.
Rewards can be redeemed for brand vouchers and memberships via the Poshvine portal. All-in-demand vouchers like Amazon & Flipkart are readily available and give cash equivalent value back. Gift vouchers can be redeemed for the exact amount of your choice at the above conversion rate and should not compulsorily be in multiples of ₹50 or ₹100.
Or you can directly get statement credit and this is the best way to redeem your points. We highly recommend this to all users of these cards. Since redemption is free it's simply smart to redeem them each time you are doing any online payment by just choosing the checkbox named 'Pay by Reward Points' while filing the OTP. The transaction amount would not change but you will get the equivalent cash credit in the statement in just 2 days.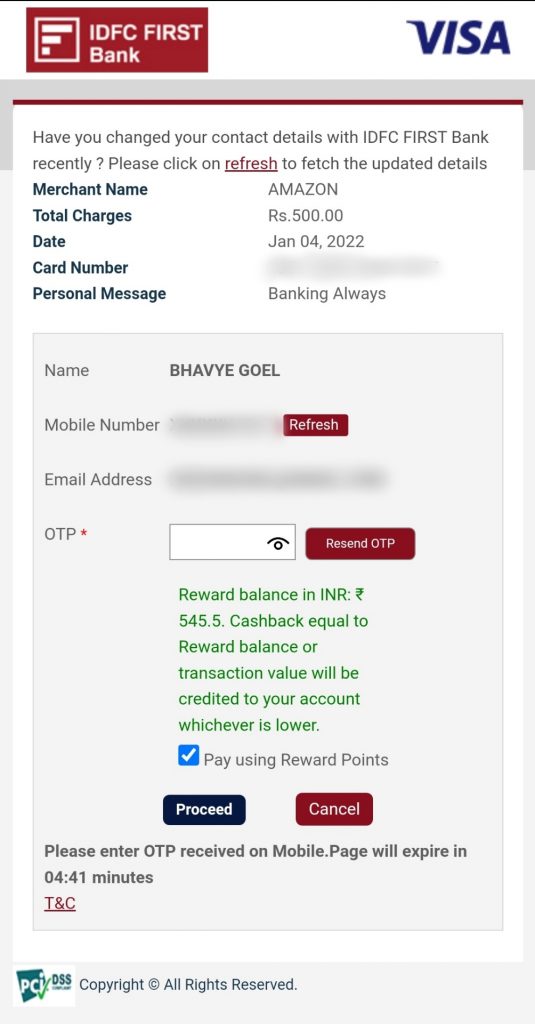 TechnoFino Maximum
These cards reward you only 0.75% maximum for spending offline below the 10X threshold hence offline usage of the IDFC First card is not at all recommended. For maximizing rewards on IDFC First cards we recommend you to use it online that too if there is only some offer running on online merchants since after the recent devaluation they hardly make any sense.
Better transact from Axis Ace, Standard Chartered Ultimate, or even BOB Eterna for a reward rate that is guaranteed at a 2% minimum.
Lounge Access
| | | | | |
| --- | --- | --- | --- | --- |
| Access Type/Card Variant | Millennia | Classic | Select | Wealth |
| Airport Lounge Access (Domestic) | N/A | N/A | 4Visits/qtr | 4Visits/qtr |
| Airport Lounge Access (International) | N/A | N/A | N/A | 4Visits/qtr |
| Railway Lounge Access | 4Visits/qtr | 4Visits/qtr | 4Visits/qtr | 4Visits/qtr |
| Domestic Spa | N/A | N/A | N/A | 4Visits/qtr |
Here are the travel perks which differ between all the variants of the card except Millennia and Classic which are considered at par by the bank. You get Complimentary railway lounge access across the lineup and it can't be better than this from an LTF card. Domestic airport lounge access starts from the Select variant.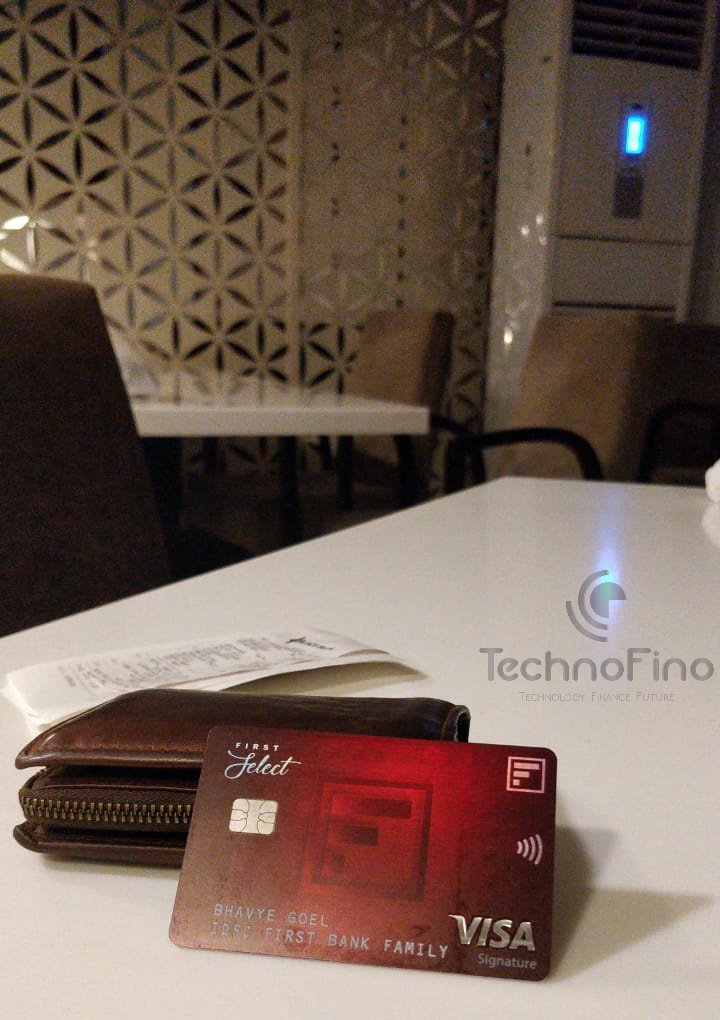 Complimentary spa sessions and international lounge access are given to Wealth cardholders via DreamFolks Dragonpass. For queries pertaining to services related to DreamFolks Dragonpass you can contact – DreamFolks @ 18001234109 or write at helpdesk@dreamfolks.in
Golf Benefits
2 complimentary golf rounds per month are only given on Wealth Card.
Road Side Assistance
Complimentary Road Side Assistance (RSA) all over India, up to 4 times in a year worth ₹1399 on all the variants through Global Assure without any spending condition unlike that on ICICI Credit cards. This feature is very unique and this card is good for utilizing this service for free.
I am providing the number to avail of the facility in case of an emergency.
Toll-free Number 18005723860
PayTM Movie Offer
The following benefits can be availed for booking movie tickets on the PayTM app. This is definitely a good offer considering the usual quota is full error we receive on BookMyShow these days while booking discounted tickets.
| | | |
| --- | --- | --- |
| Millennia/ Classic | Select | Wealth |
| 25% discount on movie tickets up to ₹100 (valid once per month) | 'Buy one, get one' offer on movie tickets up to ₹ 250 (valid twice per month) | 'Buy one, get one' offer on movie tickets up to ₹ 500 (valid twice per month) |
Fuel Surcharge Waiver
| | | |
| --- | --- | --- |
| Millennia/ Classic | Select | Wealth |
| Fuel surcharge waiver of 1%, at all fuel stations across India, up to ₹200/month | Fuel surcharge waiver of 1%, at all fuel stations across India, up to ₹300/month | Fuel surcharge waiver of 1%, at all fuel stations across India, up to ₹400/month |
Forex Markup
| | | |
| --- | --- | --- |
| Millennia/ Classic | Select | Wealth |
| 3.5% for all international transactions | 1.99% for all international transactions | 1.5% for all international transactions |
These cards are not too attractive for international spending as you won't even break even except Wealth card and that too if you spend only online internationally.
Insurance Benefits*
| | | | |
| --- | --- | --- | --- |
| | Millennia/ Classic | Select | Wealth |
| Personal Accident Cover | ₹2,00,000 | ₹5,00,000 | ₹10,00,000 |
| Lost Card Liability | ₹25,000 | ₹50,000 | ₹50,000 |
| Air Accident Cover | N/A | ₹1Cr | ₹1Cr |
| Travel Insurance Cover | N/A | ₹22,500 | ₹22,500 |
*Valid only on doing at least one transaction in the last 30 days on your card.
I would suggest you not rely on this accidental insurance if you are really serious about keeping your family financially protected in case of any mishap as these insurances are generally not very comprehensive and may leave your family unprotected if you haven't used your card in the last 30 days. So taking Personal Accidental insurance makes more sense.
Interest Free Cash Withdrawals
Now, this is a first again and a market-disrupting feature with unbelievable T&C. IDFC FIRST Bank Credit Cards offer ATM cash withdrawals at 0% interest until the due date.
Usually, other credit cards charge interest from the date of withdrawal with interest rates as high as 3.5% per month along with a withdrawal fee of ₹500.
Whereas, with IDFC FIRST Bank Credit Cards you pay zero interest until the payment due date and a flat transaction fee of ₹ 250/- only.
Eligibility
Millennia/ Classic
Select
Wealth
You must have an Annual Income of ₹3-12 lacs
Or
Credit Limit up to ₹ 1.5 lacs
You must have an Annual Income of ₹12-36 lacs
Or
Credit Limit of ₹1.5-5 lacs
You must have an Annual Income of ₹36 lacs or more
Or
Credit Limit of ₹5 lacs or more
If your ITR is not up to the mark then taking the card-to-card route makes much more sense as the eligibility for the same is very less demanding. And if you are an existing cardholder then you can push the bank for a card upgrade if you fulfill the above criteria as many eligible people recently have been able to get an upgrade successfully.
Customer Care Details
For feedback/suggestions/complaints/requests the customer can contact IDFC FIRST Bank @ 18605001111 or write at creditcard@idfcfirstbank.com
TechnoFino Recommends
It has been a very good experience for me till date for IDFC First credit card. I simply adore their customer service, both at the branch and online, for their promptness and proficiency in resolving any query that arises. It will be too early to say about the future as the bank is currently in expansion mode.

I think what the bank currently lacks is a policy on upgrades, credit limit enhancements, and new onboarding. Many saving account holders to whom the bank is not giving pre-approved cards cannot also apply for it themselves whereas non-account holders can readily apply for their cards. Also, many card users currently fulfill the eligibility criteria given above but are being denied upgrades. Hope they rectify all these shortcomings very soon.

I would like to recommend everyone to have these unconditionally LTF cards in their wallet for the countless benefits mentioned above and their unique benefit of railway lounge access. And since the bank is currently in aggressive onboarding mode we can see some mind-blowing offers in 2022 on their credit cards just like they send on their debit cards.
Apply now by clicking below!

How has your journey been with IDFC First Credit Cards? Share your thought below!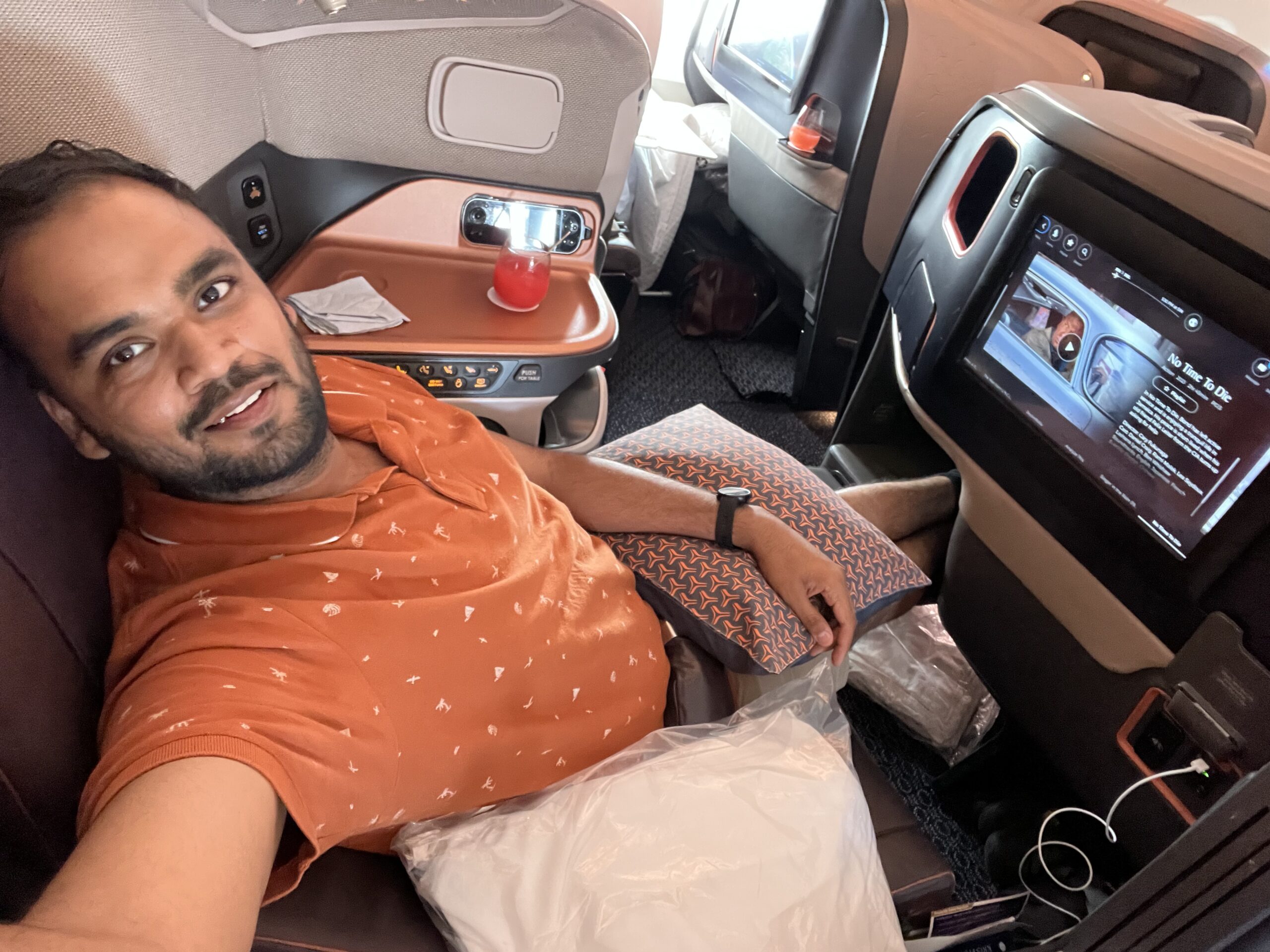 Chief Editor, TechnoFino.
Personal finance nerd! Physics enthusiast and trainer. When not into Physics, he is minting points and hunting for the next best credit card for himself.