Ever needed a jumpstart or help with an empty fuel tank? When you are stuck it's easy to panic and forget about the options you have at hand when you need them the most. Further, you may have a credit card in your wallet which offers complimentary Road Side Assistance.
Roadside assistance is generally sold or bundled with car insurance by car dealers in tie-up with partners like Allianz/ Europ Assistance but recently many credit cards are offering it for free. Let's quickly check out the cards offering the same!
Road-Side Assistance
Roadside Assistance acts as your most trusted ally when the vehicle breaks down. In other words, Roadside Assistance Coverage means a professional technician comes to your rescue when your car breaks down in the middle of the journey leaving you stranded. Broadly it helps you in the following situations all over India.
Towing Service
Accidental Towing
Battery Jumpstart
Flat Tyre
Lost or Locked keys
Fuel Problems
Some of the RSAs will also provide you with a hotel stay or a complimentary taxi service to a limited area.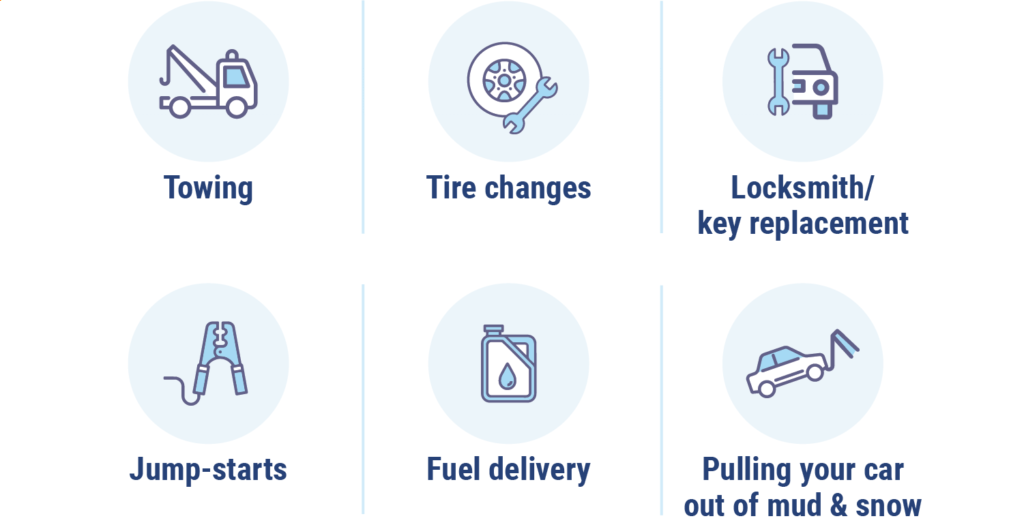 Though even paid plans don't cost a bomb still many Indians tend to ignore it just like they ignore insurance and realize its value only when they are immobilized and are asked for hefty towing charges by local crane operators. A single instance of car towing from a remote location can cost easily something between ₹20,000 -₹30,000 easily. Whereas the cost of 1 year paid RSA plan when bought from your car manufacturer is anywhere near ₹2000 and a 5-year plan costs around ₹6500. So even a single RSA service can help you get back a multiple of the money paid.
RSA can also be bought for a low price when taken as an add-on with your vehicle insurance so do remember to ask for it from the provider when your next renewal is due. Else just get one of the cards given below!
Many new car owners live with the impression that they wouldn't need this service but a car is a machine and can go faulty just when you need it the most. I have had multiple instances with my vehicle where I needed it and it proved to be a lifesaver. And now you don't even have to pay for with since this is being offered complimentary with credit cards in India.
How to avail?
Pick your phone and call on the respective number and register your service request.
On a best effort basis assistance will be provided to you, and the time would depend on the location of the vehicle. However, normally it would take about 30 to 45 minutes to reach you within city limits and about one to one and half hours to reach you if you are outside city limits.
If minor repairs are needed, the technician will repair your car on the spot. If it needs to be moved to a garage, they'll tow it to a nearby network garage.
Cards with Complimentary Road Side Assistance
Credit Cards
Credit Card
Service Availability
Complimentary Limit
Toll-Free Number
1)
IDFC First Credit Cards
PAN India
4 Services/ Year
1800 572 3860
2)
ICICI Accelero
PAN India
Unlimited
1800 419 1024
3)
ICICI HPCL Supersaver
PAN India
Unlimited
1800 419 1024
4)
AMEX Platinum Charge
PAN India
Unlimited
022-42320243
5)
IndusInd Credit Cards
Mumbai, Delhi, Bangalore,
Pune, Chennai, and Kolkata
Unlimited#
1860 267 7777
Currently, all the IDFC credit cards like WOW!, Millennia/Classic, Select, and Wealth are offering this service. And clearly, IDFC First Bank is way ahead of the competition since the service area of IndusInd Bank is limited only to metro cities and ICICI is offering the services on its paid card whereas IDFC First cards are lifetime-free.
IndusInd Bank is offering this service on its multiple credit cards namely Crest, Pinnacle, Legend, Iconia, and even their base variant like Platinum.
#But the main catch with IndusInd cards is that all expenses including labor charges or any repair charges need to be paid. So looks like all they are providing is a mere concierge service.
Debit Cards
| | | | | |
| --- | --- | --- | --- | --- |
| | Debit Card | Service Availability | Complimentary Limit | Toll-Free Number |
| 1) | ICICI Sapphiro Debit Card | PAN India | 4 Services/ Year | 1800 572 3860 |
| 2) | IDFC Private Debit Card | PAN India | 4 Services/ Year | 1800 572 3860 |
| 3) | IDFC Wealth Debit Card | PAN India | 4 Services/ Year | 1800 572 3860 |
| 4) | IDFC Select Debit Card | PAN India | 4 Services/ Year | 1800 572 3860 |
The only ICICI debit card in India currently offering this service bundled with its complimentary Card Protection Plan (CPP) is ICICI Sapphiro but comes at a hefty cost of ₹1500 + GST per annum.
Other than the above IDFC First Bank is offering this facility on their selected top three debit card variants which you can get if you mantain a certain NRV with the bank.
Bottomline
You always hope never to need roadside assistance just like insurance and people tend to forget about it. So I would recommend you to apply for an IDFC First Credit Card if you are already not using the ICICI twins mentioned above. IndusInd cards for this very specific purpose is not recommended since their coverage is very limited and emergency can come anywhere.
Also getting a premium debit card for this purpose by keeping a good amount in banks is not at all recommended in this high-inflation era.
This article will come in handy when you are in need and it's always good to know whom to call when you are stuck!
Have you availed of the Roadside Assistance services in India? How has been your experience? Share your experience in the comments below.
Chief Editor, TechnoFino.
Personal finance nerd! Physics enthusiast and trainer. When I am not into Physics, I am minting points and hunting for the next credit card for myself. I can help you choose the best credit card for you!