HDFC Bank, the OG of the credit card industry, is back in its original avatar after lifting of RBI embargo and now looking quite aggressive with their lineup topped with their aggressive onboarding stance to regain their lost market share. Recently they relaunched their Infinia credit card which is the dream credit card for every credit card enthusiast in India and literally gives infinite of everything be it rewards, luxury hotel stays, lounge and golf course access and all the rest. This time the card is in a metal form factor which had created an initial buzz but the design has been a big disappointment for the majority of users over what it was earlier.
Here's a detailed review on the same with the unboxing of the HDFC Infinia Credit Card.
Watch HDFC Infinia Credit Card Metal Edition Unboxing & Review Video – On Our YouTube Channel.
Charges and Welcome Benefits
Joining Charges
₹12500 + GST = ₹14750
Welcome Benefits
1) 12500 Reward Points which offsets the fee-only part of the joining charges.
2) Complimentary Club Marriott membership for a year that offers up to 20% discounts for Dining and Stays across Asia – Pacific region.
Renewal Charges
₹12500 + GST = ₹14750
Renewal Benefits
12,500 Reward Points
Fee Waiver
Spend ₹10L or more in a year
Markup Charges
2%
Add on Card Fees
None
Card Limit
HDFC Infinia Credit Card is offered with VISA Infinite/MasterCard World variants and is generally offered with minimum of 8 lakhs of credit limit.
Since the card is offered only to UHNIs and spending requirements can be much higher than that yet there is nothing to worry about when you have an Infinia in your pocket as it offers you a unique NPSL* (No Pre-set Spending Limit) feature, which means they may "temporarily" increase the limit if you inform the "Infinia Support Team" prior to the swipe. Even if you exceed your credit limit by chance then there won't be overlimit charges upto a certain extent usually around 10% of the credit limit. This feature is unique to Infinia and is not applicable to any other HDFC credit card. As I said earlier it gives truly infinite possibilities!
Reward Points Accrual
| | |
| --- | --- |
| Spends Area | Reward Rate |
| All Retail* Spends (including Insurance, Utilities, Education and Rent Pay) | 5 Reward Points on every ₹150 |
| Flight & Hotels Booking Via Smartbuy | 10X |
| For Amazon (Via Smartbuy) | 5X |
| Flipkart (Via Smartbuy) | 3X |
| Train Booking (Using Smartbuy Portal) | 5X |
| Insta Gift Voucher (Via Smartbuy) | 5X |
You get 5 reward points for every ₹150 spent anywhere. This gives you an equivalent amount of ₹3.30 for every ₹100 spent, meaning you can easily save ₹3,300 for every ₹1 Lakh you spend on the Infinia card.
*No reward points for fuel, wallet loading and EMI.
Reward points are valid only for 3 years from the date of accumulation.
If the credit card is not used for more than 365 days, Reward points accrued will be nullified.
2X reward points on dining at standalone restaurants is not applicable on metal edition card. Same will be discontinued for Non-Metal cards effective 1st Dec'21.
Maximum Capping (For Smartbuy Transactions) – 15,000 Reward Points Per Month
Reward Points Redemption
You can redeem your Reward Points on Smartbuy or Net Banking and various redemption options are as follows
| | |
| --- | --- |
| Flight and Hotel Bookings via Smartbuy | 1 RP = ₹1 |
| Apple products and Tanishq vouchers via Smartbuy | 1 RP = ₹1 |
| Air Miles conversion through Netbanking | 1 RP = 1 Air Mile |
| Products and Vouchers via Netbanking or SmartBuy | 1 RP = upto ₹0.50 |
| Statement Credit | 1 RP = ₹0.30 |
Reward Rate (If You Consider 1 RP = ₹1)
Normal Reward Rate (1X) – 3.33%
Accelerated Reward Rates
10X Reward Rate – 33.33% (Smartbuy Flight & Hotel Booking)
5X Reward Rate – 16.67% (Smartbuy Train Booking, Amazon, Vouchers, etc)
3X Reward Rate – 10% (Smartbuy Flipkart)
The whopping 33.33% reward rate on flight and hotel bookings and 16.67% on Trains, Amazon shopping and Insta Vouchers is what makes this card drool-worthy.
Main Benefits
Unlimited Airport Lounge Access
Access Via: Visa Infinite
Domestic Limits: 4/Quarter

Access Via: Priority Pass
Unlimited domestic and international lounge visits
*Benefit also extended for upto 3 add-on card and Priority Pass holders.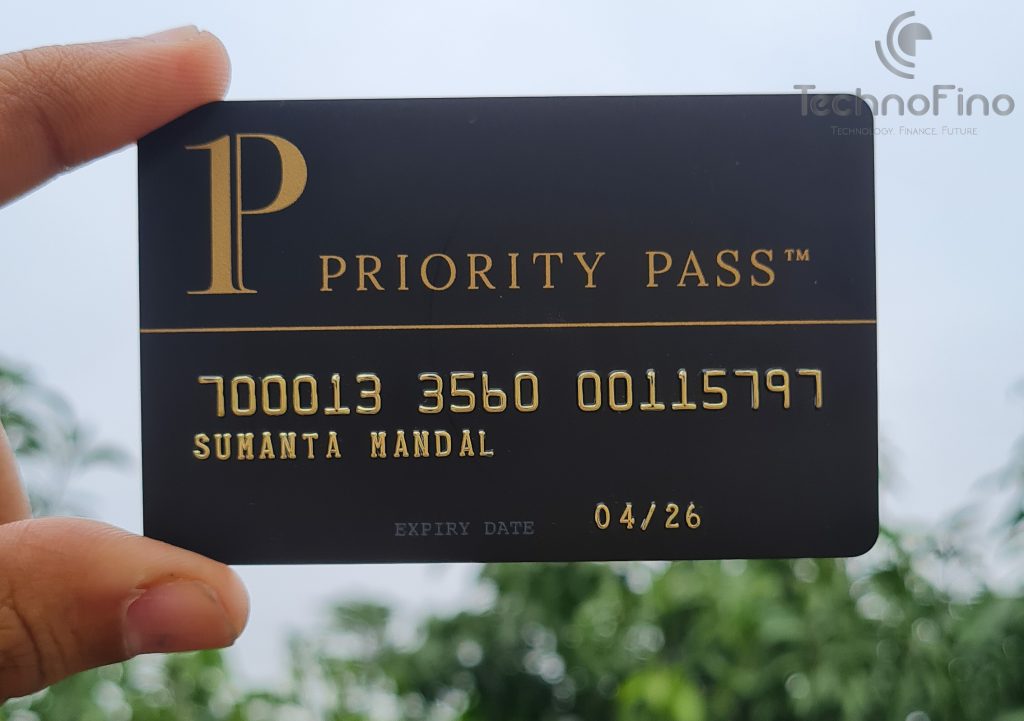 In short this card is the pass to all lounges offering complimentary food, beverages, Wi-Fi and comfy sofas even if you are on a round the globe trip with your whole family.
Unmatched Golf Benefits
If you are a golf lover then it offers:
Unlimited complimentary golf games at leading courses across India and select courses across the world.
Unlimited complimentary golf coaching at select golf courses across India.
Stay 3 Pay 2 Offers on ITC Hotels
This is a newly launched offer for Infinia Metal Edition card that is book stay for 3-nights and pay for two at participating ITC Hotels. As per the fine print :
Offer is only applicable on advance booking done via 24×7 Infinia Concierge.
A 24 hours gap is required between two bookings placed under the program.
This offer will not be eligible on blackout dates.
Premium Dining Experience
Another new offer to sparkle up the metal is that if you book 1 then you get 1 complimentary weekend buffet at participating ITC Hotels.
Offer is only applicable on advance booking done via 24×7 INFINIA Concierge.
Only one booking is allowed per month.
Offer is applicable only for weekend buffet i.e. Saturday & Sunday.
Good Food Trail Membership
You also get complimentary DineOut passport membership for a year. Under the Good Food Trail Membership, you will get a 25% discount on your dining bill, exclusive deals on buffets, foods, and drinks at some of the selected restaurants. Also if you use the Dineout Pay app, you will get an additional 15% discount on your dining bills.
Freedom from Fuel Surcharges
Not a noteworthy benefit though as many credit and debit cards nowadays provide fuel surcharge waiver. Infinia could have packed a solid punch if they would have rewarded fuel spends also so that there would not have been any need for a dedicated fuel card for Infinia holders. With Infinia you get :
1% fuel surcharge waiver at all fuel stations in India.
Minimum transaction value – ₹400
Maximum transaction value – ₹1,00,000
Maximum surcharge waiver per statement cycle – ₹1000
Global Personal Concierge
Infinia and DCB Credit Cards have a faster and dedicated support line that really gets your work done or fetches you the specific information about anything you want. Like Golf Booking, Itinerary planning and reservation assistance, Private dining assistance, International gift delivery, Event planning and referrals, Airport VIP service (meet-and-greet) and much more.
Toll-Free No.: 1800 118 887 Landline No.: 022 42320226
International Travels and Spends is Rewarding
Foreign Currency Markup Fee: 2%+GST
Reward Rate: 3.33%
Net Gains: 1%
Though the markup charges of 2%+GST are a bit on a higher side as compared to some better offerings available now in the market.
Worthy Insurance Coverage
Zero Lost card liability
Credit shield – The outstanding amount on the Infinia credit card is covered to an extent of ₹ 9 lakh in case of accidental death and permanent disability.
Accidental death: In case of death in an air accident, the nominated next of kin will receive a compensation of ₹3 crore.
Medical emergency cover: The card holder is covered up to ₹50 lakh against medical emergencies during travel abroad.
Hence there is freedom from buying all those travel insurances that we buy before going on an international holiday and we also get a cash withdrawal limit of 40% of the total which can act as a backup in extreme emergency situations. Though there are no charges attached with withdrawal but be aware that interest will kick in from the date of withdrawal.
Eligibility
Officially, HDFC Bank Infinia Credit Card is an Invite Only card but unofficially you can request it if you meet any of the following conditions
Indian Resident with
₹45L ITR (Salaried/Self Employed)
Existing HDFC credit card with a minimum of ₹8L limit or very high spends.
High NRV with HDFC Bank (>₹30 Lakh)
Having exposure to other HDFC products.
Other bank credit card with a minimum of ₹10L limit.
Shocked? Yes HDFC Bank is a bit strict in issuing Infinia Credit cards until it sees any value in the relationship with you.
Bottomline is that either you must be a very high networth individual so that the bank looks at you as a potential customer in the near future or you have already given the bank enough business to absorb the price of all the promised luxuries because ultimately you will be one paying indirectly for all the benefits and bank earns via profits made on interests, loans and policies sold to you.
Conclusion
As said before, this is the best super premium credit card in India. No matter what your needs are, this card has the potential to fulfil almost all of them. With unlimited free lounge access, exclusive deals on dining and hotel booking, fuel surcharge waiver, this HDFC Infinia credit card can easily justify the high annual fee. So if you believe in the concept of paid cards and have the eligibility criteria fulfilled then this card can be the gateway for you to enter the world of INFINITE POSSIBILITIES.
Watch HDFC Infinia Credit Card Metal Edition Review & Unboxing On Our YouTube Channel Here.
Do you already hold this masterpiece or is it still your dream card? Share your thoughts below.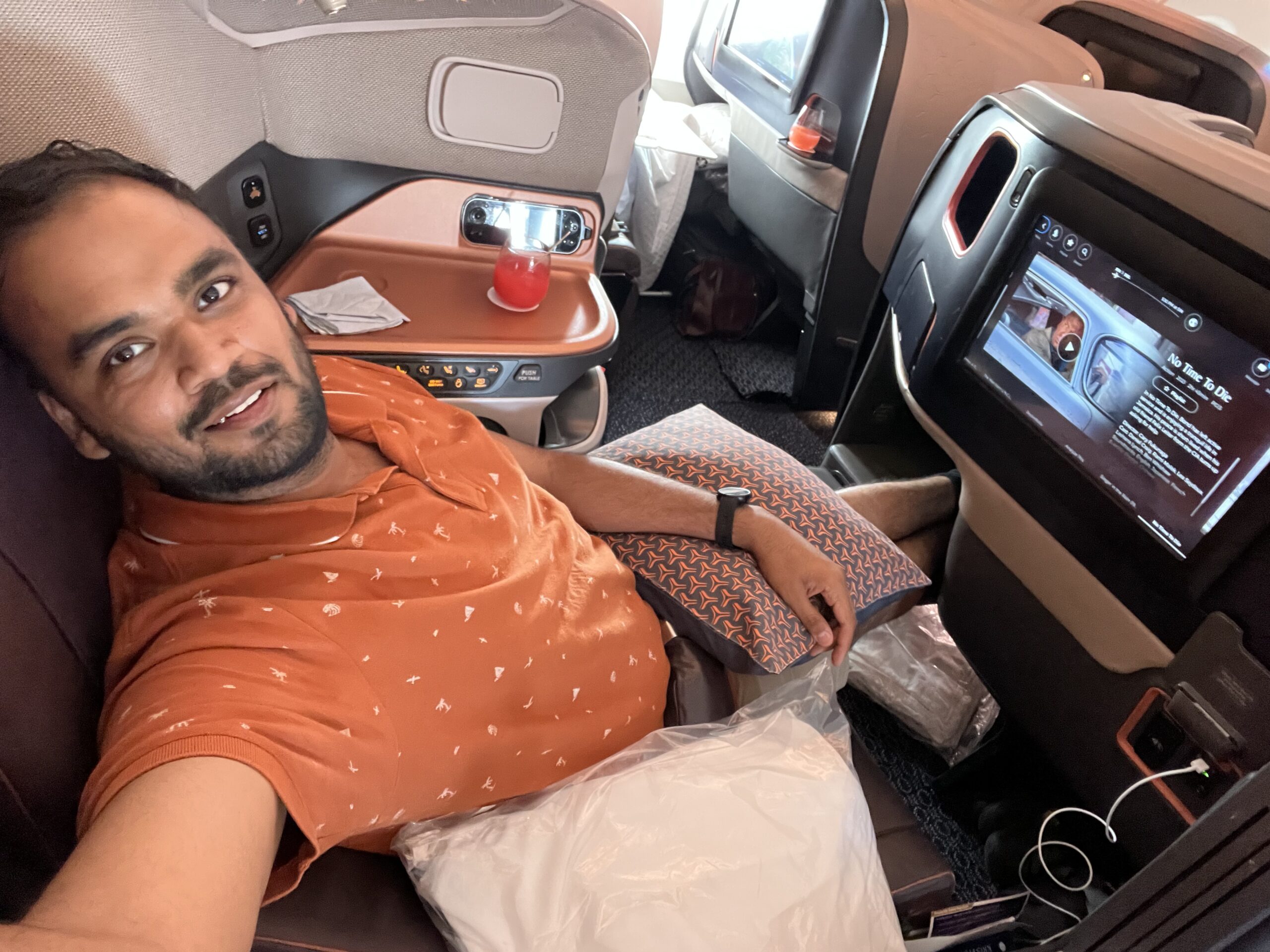 Chief Editor, TechnoFino.
Personal finance nerd! Physics enthusiast and trainer. When not into Physics, he is minting points and hunting for the next best credit card for himself.