Editor's note: This is a recurring post, regularly updated with new information and offers. Last Updated 20th September 2023.
Earlier in 2023 HDFC launched Regalia Gold which is an upgraded version of their most popular HDFC Regalia credit card. With this, the HDFC Bank has positioned it just below the HDFC luxury twins HDFC Infinia Credit Card and HDFC Diners Club Black Credit Card. I have recently taken a plunge into it.
Here's everything you wish to know about the card.
Charges and Welcome Benefits
Joining Fees
₹2500 + GST or FYF (Upgrade)
Welcome Benefits
1) Gift Voucher worth ₹2500 (Paid Cards)
2) Complimentary Club Vistara Silver Tier and MMT Black Elite Membership*
Renewal Fees
₹2500 + GST
Renewal Benefits
NIL
Renewal Fee Waiver
Spend ₹4L or more in a year.
*Applicable on ₹1L spent within 90 days of card issuance
HDFC has done away with reward points on both welcome and annual benefits on Regalia Gold which I found surprising since its a premium reward points based travel card.
Reward Points Accrual
| | | |
| --- | --- | --- |
| Spends Area | Reward Rate | Maximum Capping per Calendar Month |
| All retail* spends | 4 Reward Points per ₹150 spent (1X) | No capping |
| Marks & Spencers, Myntra, Nykaa & Reliance Digital | 20 Reward Points per ₹150 spent (5X) | 5000 per month on 4X accelerated points |
*Except for Fuel, Rental Payments, Packers and Movers, Government Transactions, Wallet loads, and Easy EMI transactions.
Reward points are valid only for 2 years from the date of accumulation
Reward points accrued for Insurance transactions will have a maximum cap of 2,000 per day
Reward points accrued for Grocery transactions will have a maximum cap of 2,000 per month
HDFC Bank has a dedicated portal named SmartBuy with which we get some extra rewards and cashback.
SmartBuy Benefits
| | | |
| --- | --- | --- |
| Accelerated Reward Rate | Maximum Reward Points per Calendar Month | Maximum Reward Points per Day |
| Upto 10X | 4000 | 2000 |
It supports merchants like Flipkart, MakeMyTrip, IGP, Apple Tresor, and likes. It also supports multiple partners for travel bookings like IRCTC, RedBus, MMT and Yatra.
Reward Points Redemption

Modes of Redemption
Value per point
Reward Rate
Redemption Charges
Exclusive Gold Catalogue
(Apple, Samsung, Bose & other vouchers)
1 RP = ₹0.65
~1.73(1X)
~8.66(5X)
~17.33(10X)
₹99 + GST
Flights and Hotel bookings via
SmartBuy
1 RP = ₹0.5
~1.33%(1X)
~6.65%(5X)
~13.3%(10X)
₹99 + GST
Products and Vouchers via
Netbanking or SmartBuy
1 RP = upto ₹0.35
~0.93%(1X)
~4.65%(5X)
~9.3%(10X)
₹99 + GST
Cashback (Statement Credit)
1 RP = ₹0.20
~0.53%(1X)
~2.65%(5X)
~5.3%(10X)
None
Airmiles/Hotel Loyalty Points
1 RP = up to 0.50 Miles/ Points
Minimum
~1.33%(1X)
None
Redemption Value Chart.
Customers can redeem up to a maximum of 70% on travel bookings (Flights, hotels and experiences) using Reward Points. The balance amount will need to be paid via credit card.
Although the maximum value on paper lies in the redemptions via Gold Catalogue in which you can buy iPhones, Bose products and Samsung phones then you will be missing the instant card discount on the same. The best redemptions on Regalia Gold would be airmiles or hotel redemptions since it comes with a gold partner redemption list or else simply you can go for travel redemptions from the SmartBuy portal.

We have compiled all the Airmiles transfer partners and hotel loyalty partners for Regalia Gold.
Milestone Benefits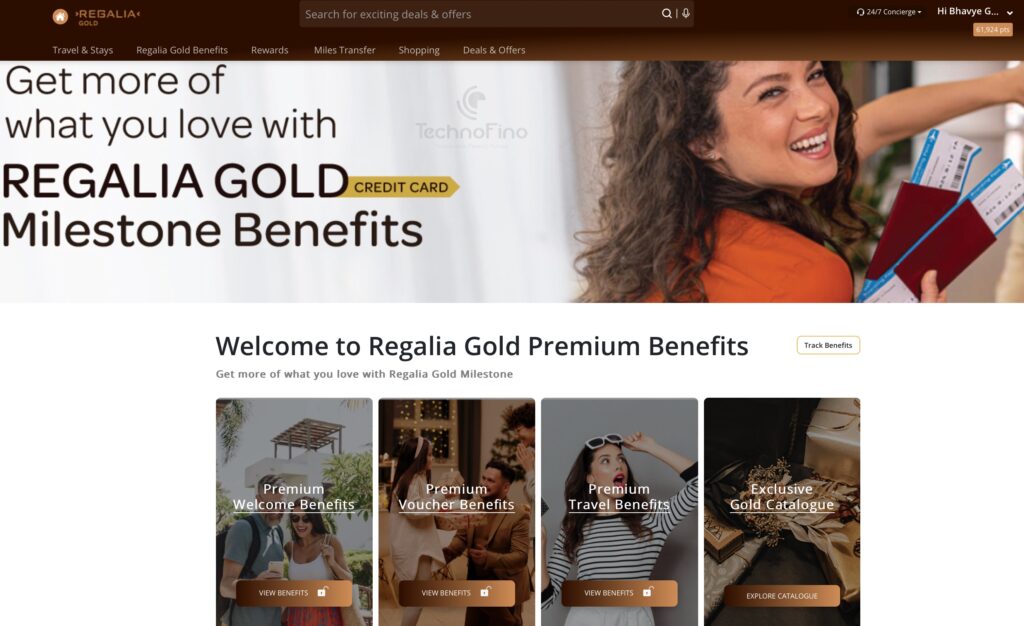 Get ₹1,500 Gift Voucher from Marriott, Myntra, Marks & Spencer or Reliance Digital when you spend 1.5 Lakhs in every calendar quarter.
Get ₹5,000 worth of flight vouchers when you spend ₹5 Lakhs in an anniversary year
Get an additional ₹5,000 worth of flight vouchers when you spend ₹7.5 Lakhs in an anniversary year
An anniversary year is defined as a 12-month period from card setup or the last upgrade/downgrade date.
All these benefits add up to ₹16,000 on a spend of ₹7.5L a year which is approximately 2.1% of additional benefits other than the base rewards.
Other Benefits
Airport Lounge Access
Access Via – Credit Card
Complimentary Domestic Limit – 12 Visits/ Calendar year within India (Shared between Primary & maximum 3 Add-on cardholders but both cards cannot be used for the same lounge, same day).
Network – Visa Signature/ MasterCard World
Access Via – Priority Pass
Complimentary International Limit – 6 Visits/ Calendar year (Shared between Primary & Add-on cards)
You can apply for a Priority Pass for yourself and 3 add-on members once you complete a minimum of four retail transactions on your HDFC Bank Regalia Gold Credit Card.
If you exceed the 6 Complimentary visits, you will be charged at US $27 + GST per visit.
Airport Transfers
You can avail of 1 voucher per booking if you book your flight tickets through the Regalia Gold Unified Smartbuy portal. You have to generate your voucher code and use it in the Uber application for the airport pick-and-drop service. This voucher can be generated a maximum of twice per quarter. Quite a unique and value-oriented feature I must say.
Good Food Trail Program
Get up to 20% savings on all your restaurant bill payments via Swiggy Dineout (20k+ restaurants)
Offer inclusive of Restaurant and Swiggy Discount. Offer valid only on payments done via the Swiggy App.
Fuel Surcharge Waiver
No fuel surcharge waiver is applicable on this card.
Insurance Coverage
Accidental air death cover worth Rs. 1 Crore
Emergency overseas hospitalization: up to Rs. 15 lakhs​​​​​​​
Lost Card Liability Cover: Upto Rs 9 lakhs
Concierge Services
Enjoy the exclusive 24/7 Concierge Services on your HDFC Bank Regalia Credit Card. Simply call the bank toll-free on 1860 425 1188 (India) / Email ID: regaliagold.support@smartbuyoffers.co
Forex Markup Charges
FCY Markup Fee: 2%+GST
Reward Rate: 1.3%
Net: –1% (loss)
Eligibility
Officially the bank has the following criteria but can vary as per your relationship with the bank.
For Salaried Indian national
Age: Min 21 years & Max 60 Years
Net Monthly Income > Rs 1 Lakh
For Self Employed Indian national
Age: Min 21 years & Max 65 Years
ITR > Rs 12 Lakhs per annum.
Unofficially, If you are an existing HDFC Credit Cardholder then you can ask for an upgrade if there is a 3L limit on your existing card.
TechnoFino Recommends
HDFC Regalia Gold Credit Card is definitely a highly rewarding and lifestyle credit card and is also the gateway to the HDFC twins. With an upgraded list of transfer partners, travel vouchers and complimentary airport transfers this card surely packs a lot of punch.
Since many LTF Regalia holders have already received an upgrade invite to FYF Regalia Gold I would recommend them to take the plunge and enjoy the shining new card and the host of benefits that it has to offer over its predecessor.
What are your thoughts about this card? Feel free to share in the comments below.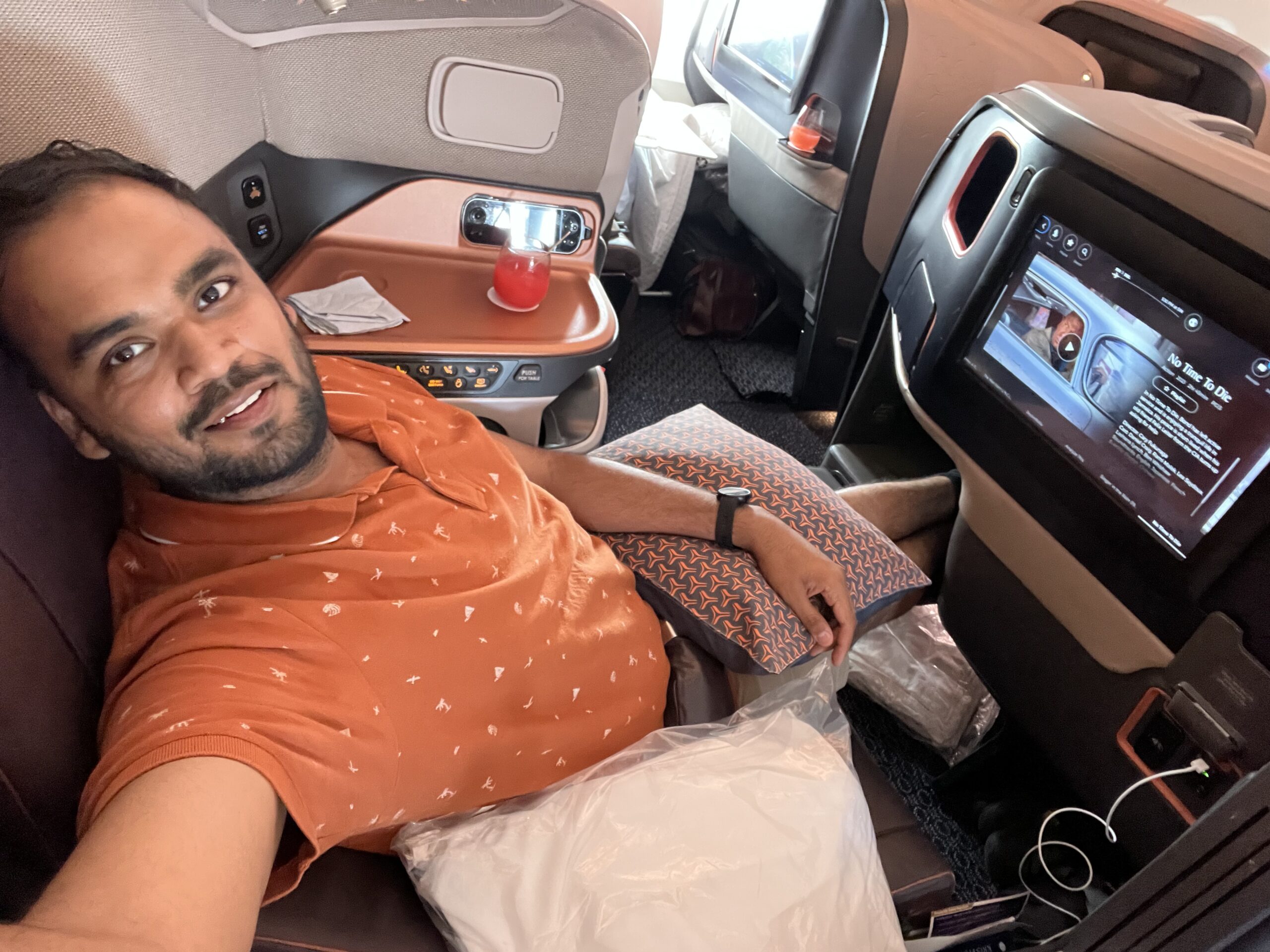 Chief Editor, TechnoFino.
Personal finance nerd! Physics enthusiast and trainer. When not into Physics, he is minting points and hunting for the next best credit card for himself.