HDFC Regalia must be the most common card among HDFC credit cardholders and is offered as a super-premium offering from HDFC Bank positioned just below the HDFC luxury twins HDFC Infinia Credit Card and HDFC Diners Club Black Credit Card. Though I would like to rate it as a mid-range premium card. Here's everything you wish to know about the card.
Charges and Welcome Benefits
| | |
| --- | --- |
| Joining Fees | ₹2500 + GST = ₹2950 (Generally FYF) |
| Welcome Benefits | 2500 Reward Points (Applicable only on payment of fees) |
| Renewal Fees | ₹2500 + GST = ₹2950 |
| Renewal Benefits | 2500 Reward Points (Applicable only on payment of fees) |
| Renewal Fee Waiver | Spend ₹3L or more in a year. |
Currently, all the HDFC Credit Cards except HDFC Infinia Credit Card, HDFC Diners Club Black Credit Card, and HDFC Diners Club Intermiles Credit Card are being offered under a special lifetime free pricing by doing a minimum threshold retail spending in the first 90 days of card issuance and for Regalia this amount is ₹1,00,000. Such offers can change anytime so check with the bank before applying for the same.
Reward Points/Cashback Accrual
| | | |
| --- | --- | --- |
| Spends Area | Reward Rate | Maximum Capping per Calendar Month |
| All retail* spends | 4 Reward Points per ₹150 spent | No capping |
*Except Fuel, Wallet loads, and Easy EMI transactions.
Reward points are valid only for 2 years from the date of accumulation.
Reward points accrued for Insurance transactions will have a maximum cap of 2,000 per day.
HDFC Bank has a dedicated portal named SmartBuy with which we get some extra rewards and cashback. The strategy for maximizing gains via SmartBuy has been shared later in the article.
| | | |
| --- | --- | --- |
| SmartBuy Benefits | Total Cashback | Maximum Cashback per calendar Month |
| SmartBuy Cashback | Upto 10% Cashback | ₹2000 |
Regalia is one out of only two cards in HDFC offering ₹2000 as monthly SmartBuy cashback. The other card is HDFC Diners Privilege.
Shopping via SmartBuy will additionally reward you the standard reward rate of 4 Reward Points per ₹150 spent.
It supports merchants like Amazon, Flipkart, MakeMyTrip, Apple Tresor, and likes. It also supports multiple partners for travel bookings.
Reward Points Redemption
| | | | |
| --- | --- | --- | --- |
| Modes of Redemption | Value per point | Reward Rate | Redemption Charges |
| Flights and hotel bookings via SmartBuy | 1 RP = ₹0.5 | ~1.33% | ₹99 + GST |
| Products and Vouchers via Netbanking or SmartBuy | 1 RP = upto ₹0.35 | ~0.93% | ₹99 + GST |
| Cashback (Statement Credit) | 1 RP = ₹0.20 | ~0.53% | None |
| Airmiles | 1 RP = 0.5 air mile | | ₹99 + GST |
Redemption Value Chart.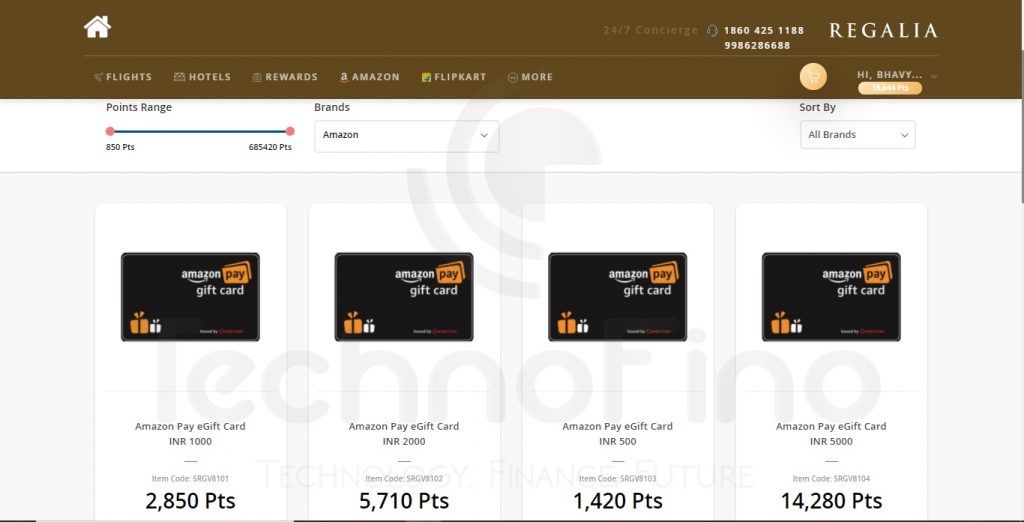 HDFC Regalia clearly gives the most value when redemption is done for flights and hotel bookings and not for cashback. We would highly recommend you to go for travel redemptions instead of cash. And if your points are near expiry and you don't have a travel plan in near future then redeem them for Amazon vouchers which is equivalent to cash instead of going for a statement credit.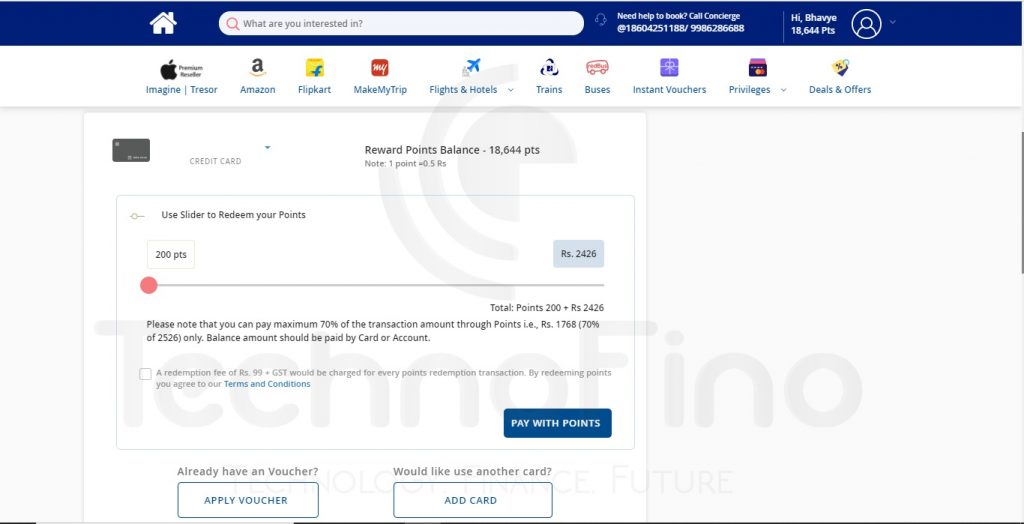 Customers can redeem upto maximum of 70% on the travel bookings (Flights, hotels and experiences) using Reward Points. The balance amount will need to be paid via credit card.
Milestone Benefits
Regalia rewards highly only to high spenders who can reach at least ₹5L spend milestone. Below that threshold reward rate is really poor. I wish they had given a standard reward rate of 2% on all spends for a card of this category.
Earn Bonus 10,000 Reward Points when you spend ₹5L in the anniversary year. (Additional ~0.4% to ~1%)
Earn additional 5,000 Reward Points when you spend ₹8L in the anniversary year. (Additional ~0.33% to ~0.83%)
Anniversary year is defined as a 12 months period from card setup or last upgrade/downgrade date.
Bonus Reward points will be posted within 2 days of the milestone achievement by the customer.

TechnoFino Maximum
For Amazon shopping we recommend you to take the SmartBuy route or buy Amazon vouchers from SmartBuy to jack up the above reward rates by 5%. The net reward rate on Amazon becomes 7.33% if you cross the 5L spend milestone and beats ICICI Bank Amazon Pay credit card handsomely.
Since Smartbuy gives a meager 1% additional on the Flipkart store so we recommend you to buy Flipkart vouchers from SmartBuy at 7.33% effectively and then use them for shopping. Here also Regalia beats Axis Bank Flipkart Credit Card by a 50% margin. For travel booking, you can use MMT Hotels via Smartbuy and book them at 10% cashback~ 12.33% effectively and train tickets at a net 7.33% reward rate.
So for maximizing returns I recommend everyone to use SmartBuy extensively till ₹40,000 per calendar month by keeping an eye and grabbing some essential vouchers like Swiggy, OLA, Uber, BigBasket, and others whenever they are available.
TechnoFino Tip
Align your billing cycle of the HDFC Credit Cards as much as possible with the calendar month by asking the bank to shift your billing cycle date to the 2nd of every month to minimize the calculations related to capping of CashPoints and SmartBuy cashback. HDFC doesn't allow the first and last two days of the month as your billing cycle date.
Other Benefits
Airport Lounge Access
Access Via – Credit Card
Complimentary Domestic Limit – 12 Visits/ Calendar year within India (Shared between Primary & maximum 3 Add-on cardholders but both cards cannot be used for the same lounge, same day).
Network – Visa Signature/ MasterCard World
Access Via – Priority Pass
Complimentary International Limit – 6 Visits/ Calendar year (Shared between Primary & Add-on cards)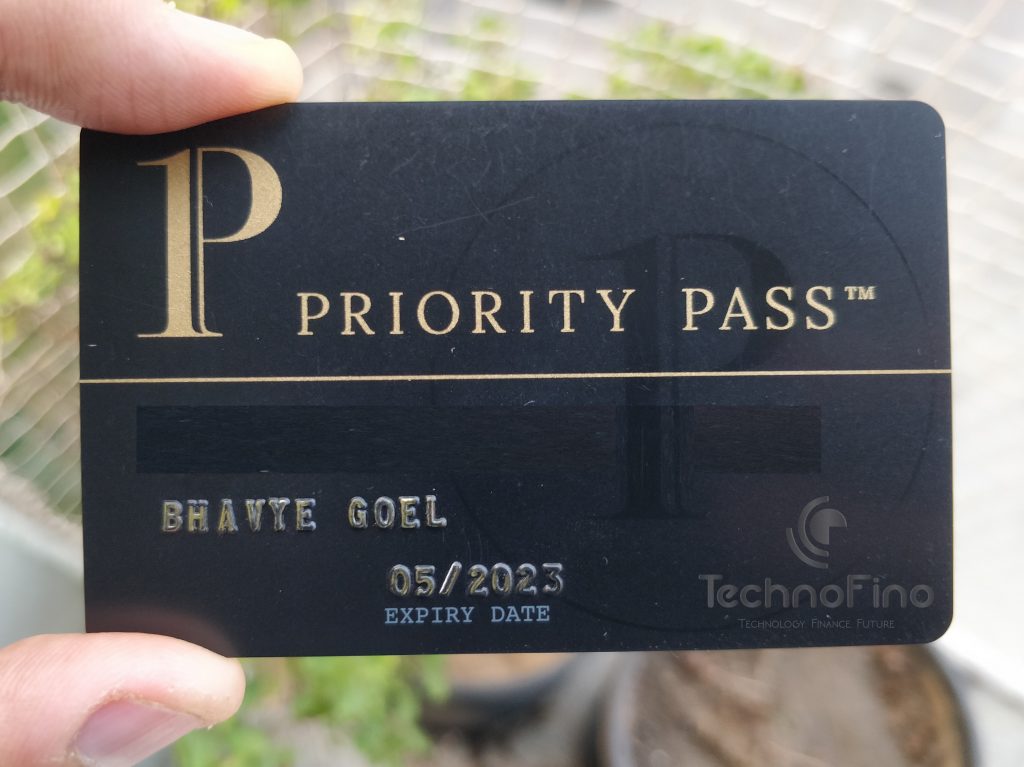 You can apply for Priority Pass for self and 3 add on members once you complete minimum 4 retail transactions on your HDFC Bank Regalia Credit Card.
If you exceed the 6 Complimentary visits, you will be charged at US $27 + GST per visit.
DineOut Passport Membership
The cardholder is eligible for exclusive complimentary DineOut Passport Membership for 3 months if he/she achieves spend ₹75,000 and more every calendar quarter using a Regalia credit card.
Fuel Surcharge
1% fuel surcharge waiver at all fuel stations across India. (On minimum transaction of ₹400 & maximum transaction of ₹5,000. Maximum waiver of ₹500 per statement cycle).
Insurance Coverage
Accidental air death cover worth Rs. 1 Crore
Emergency overseas hospitalization: up to Rs. 15 lakhs​​​​​​​
Lost Card Liability Cover : Upto Rs 9 lakhs
24×7 Concierge
Enjoy the exclusive 24/7 Concierge Services on your HDFC Bank Regalia Credit Card. Simply call the bank toll-free on 1860 425 1188 (India) / Email ID: regalia.support@smartbuyoffers.co
International Spends
FCY Markup Fee: 2%+GST
Reward Rate: 1.3%
Net: –1% (loss)
But with the Global Value Program of HDFC Bank which is offered on Regalia, you can get 1% cashback on all international spends and thus you spend at no loss no gain. I will be covering this later in detail in an article.
Eligibility
Officially the bank has the following criteria but can vary as per your relationship with the bank.
For Salaried Indian national
Age: Min 21 years & Max 60 Years
Net Monthly Income > Rs 1 Lakh
For Self Employed Indian national
Age: Min 21 years & Max 65 Years
ITR > Rs 12 Lakhs per annum.
Unofficially, If you are an existing HDFC Credit Cardholder then you can ask for an upgrade if there is a 3L limit on your existing card.
TechnoFino Recommends
HDFC Regalia Credit Card is definitely a highly rewarding and lifestyle credit card and is also the gateway to the HDFC twins. Though some people find this card a tad bit expensive but the value it offers, over its younger avatar called HDFC Millennia Credit Card, justifies the fee as the ceiling of the SmartBuy cashback gets higher plus the reward points become uncapped. But the card's real worth can only be realized if you can go for travel redemptions. Although racking up reward points is a bit difficult now compared to the olden days since its devaluation twice but still, its charm is not all lost.
Also the shared domestic and international lounge access is unique to a card of this price range and will make your international travels comfortable plus save you a lot of money on the expensive meals you may have with your family while hopping airports. So this card is a big thumbs up from our end if you are eligible for it and if you're not you know which bank you have to build a relationship with and start your rewarding journey.
What has been your strategy for minting points on this card? Feel free to share in the comments below.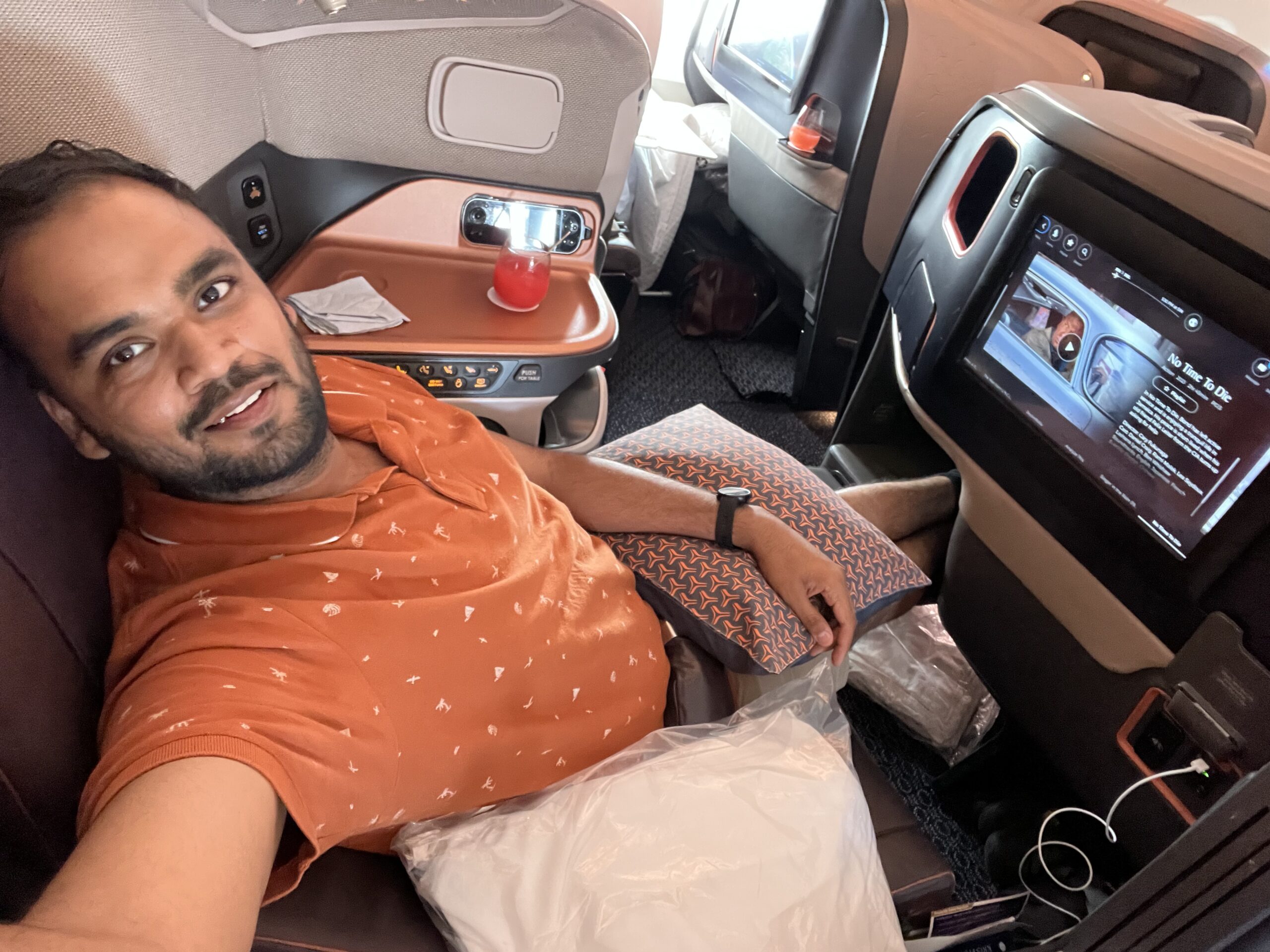 Chief Editor, TechnoFino.
Personal finance nerd! Physics enthusiast and trainer. When not into Physics, he is minting points and hunting for the next best credit card for himself.