Editor's note: This is a recurring post, regularly updated with new information and offers. Last Updated 24th May 2023.
IndusInd Bank recently launched another co-branded credit card in collaboration with EazyDiner. It's a surprising new addition since EazyDiner is already having a slew of banking partners for various offers on their application and hence exclusivity cannot be maintained. The card has been creating a lot of hype. This keen interest is due to the devaluation of the evergreen favourites of IndusInd Bank like Iconia, Legend, and Pinnacle.
EazyDiner is a dine-out application primarily related to India and now expanding its footprint in Dubai as well. With this, you can book tables at your nearby restaurants and even buy prepaid QSR deals for that on-the-go snacking.
Let's check out all that this card brings on to the table and whether it makes sense to switch to it or not!
Charges and Welcome Benefits
Joining Fees
₹1999 + GST
Welcome Benefits
1) The Postcard Hotel stay voucher worth ₹5,000
2) Annual EazyDiner Prime Membership worth ₹3,550
3) 2000 Bonus EazyPoints
Renewal Fees
₹1999 + GST
Renewal Benefits
1) Annual EazyDiner Prime Membership worth ₹3,550
2) 2000 Bonus EazyPoints
Renewal Fee Waiver
NA
I know you are thinking that the joining fee has been over-compensated with the welcome benefits worth double the fee paid. But keep in mind that Postcard Hotels is a luxury hotel chain and their most basic room starts from 16000 onwards per day with the priciest one costing nearly 2L per day! So to use that voucher you have to pay a good difference using your Indusind EazyDiner card. This more or less looks like a promotional voucher from Postcard Hotel. But if luxury is your way to go then this voucher will give you a wonderful new experience of a postcard-perfect hotel. Postcard Hotel voucher is transferable but payment at the hotel needs to be done using IndusInd EazyDiner card only.
You also get an EazyDiner Prime Membership along with this card which costs more than the annual fee paid itself. Plus you also get 2000 EazyPoints every year on renewal.
Reward Accrual
| | | |
| --- | --- | --- |
| Spends Area | Earn Rate | Reward Rate |
| Dining, Shopping, and Entertainment. | 10 Reward Points/₹100 | 2% |
| All other retail spends*. | 4 Reward Points/₹100 | 0.80% |
| EazyDiner Table Bookings | 3X EazyPoints | NA |
*Retail spending excludes fuel spending.
1 Reward Point = 20p
Accumulated reward points will expire at the completion of every anniversary year.
EazyPoints expire if you don't do a transaction for more than 6 months on the EazyDiner platform.
EazyPoints are earned differently than the Reward Points on the EazyDiner application. Following are the ways in which you can earn EazyPoints.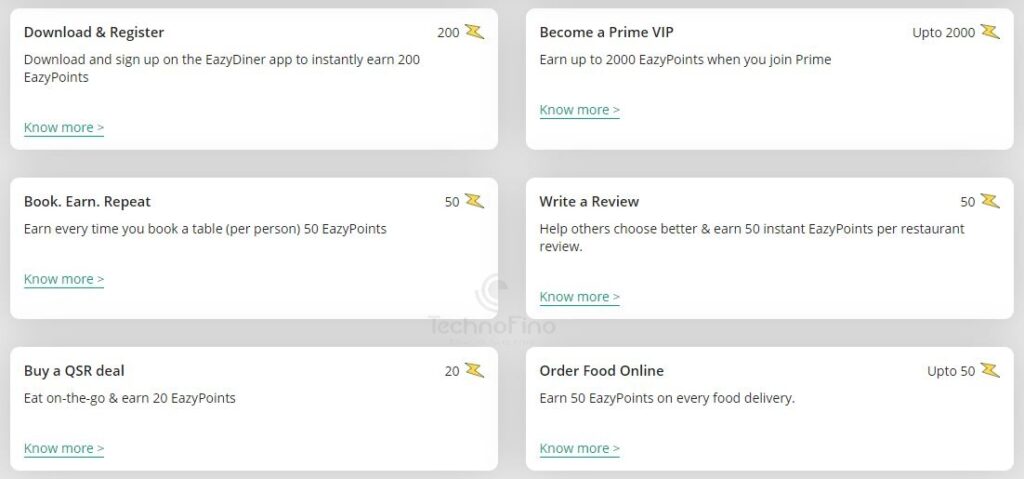 Out of all the above ways, you will get 3X EazyPoints on the Book a Table Feature only, and the rest of earning rate will be as usual. If you are a non-prime member you are entitled to 25 EazyPoints per diner (50 EP if you are a Prime) on booking a table so with this card you will receive 75 EazyPoints per diner.
Reward Redemption
You can earn rewards in two different forms that are Reward Points and EazyPoints but the currency is a single entity called EazyPoints. Now the interesting part is that the redemption process for both of them is different. As both points will be visible separately in your application once you have the card linked to your application. I would say that this is a poor execution of the product since it makes it complex to understand for a novice card user.
For redemption, you have the following options.
Reward Points
Reward Points earned on spending are instantly redeemable against your food bills at 20p per point. You cannot redeem them in cash.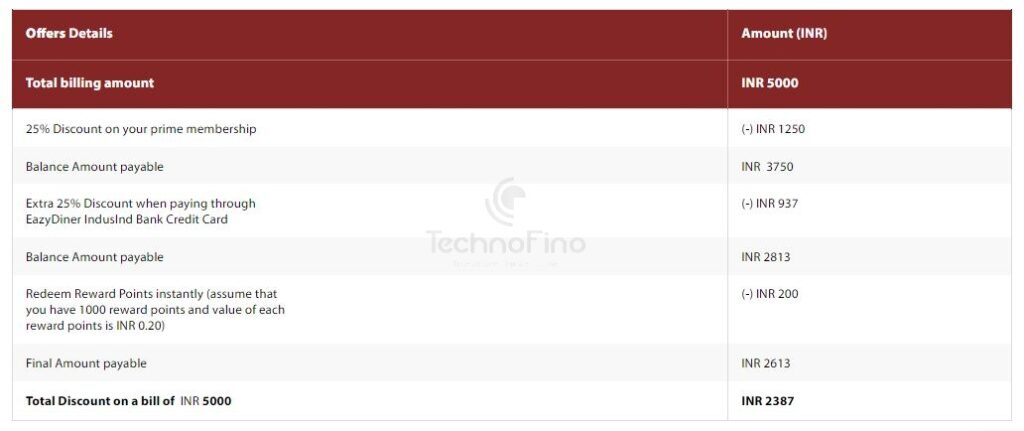 EazyPoints Redemption
You can redeem EazyPoints against Meal Vouchers, Restaurant events or free Hotel Stays as and when they are unlocked for you.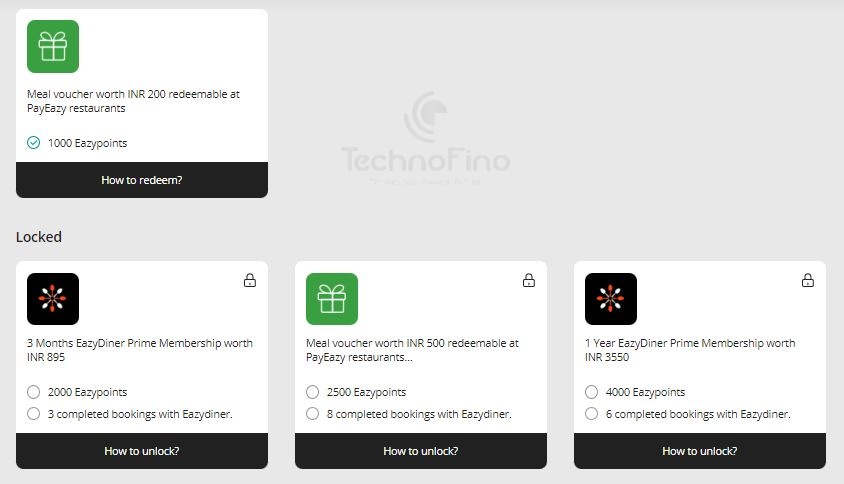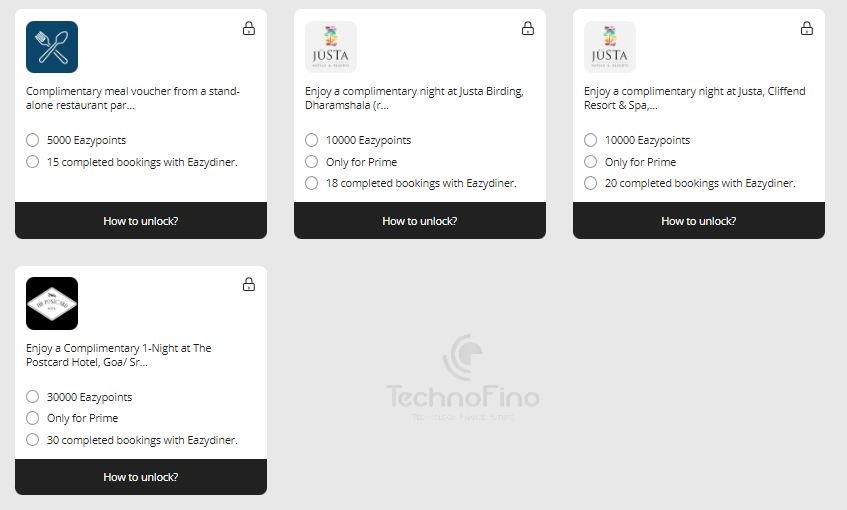 EazyPoints when redeemed for a meal voucher gives you a value of 20p each and have a minimum spending condition. A 200 voucher comes with a 1000 minimum billing condition. So redemptions for meal vouchers are pointless since you won't be able to 20%-40% club card discounts with them and points would simply go to waste.
You can also redeem EazyPoints for a night's stay in select juSTa Resorts in Dharamshala and Shimla. A night at juSTa Birding Dharamshala starts from 11K a night whereas juSTa Cliffend Resort & Spa Mashobra Shimla costs around 25K a night with the same redemption requirements.
Further if luxury is your cup of tea then Postcard Hotel (Goa/ Sri Lanka/ Bhutan) redemption option is also there for 30K EazyDiner points. But there is a condition of paying the full amount for the first night and then the second night becomes complimentary.
For getting the maximum out of EazyDiner points I recommend you accumulate them and use them for hotel redemptions. But yes these points will only be worthy of a meaningful redemption if you are a regular EazyDiner user.
TechnoFino Tip: You can easily get ₹6/EazyPoint if you redeem them for the Postcard Hotel voucher and book their topmost Dewa Suite in Thimpu, Bhutan, or ₹2.5/EazyPoint if used for a night's stay at juSTa Cliffend Resort & Spa Mashobra Shimla, India.
EazyDiner Prime Membership
This card offers you an annual EazyDiner Prime Membership on payment of your renewal fees every year which currently they are offering at a discounted price of ₹2495/year.
EazyDiner Dining Benefits
Discount on your food bill
Avail an extra 25% OFF up to ₹1000 every time you eat out & pay on the app via PayEazy over and above the Prime Discount. This offer is valid on takeaway as well.
Exclusive extra 25% OFF up to 1000 is applicable through IndusInd EazyDiner Credit Card only on paying on the EazyDiner App online via PayEazy.
You can avail of this discount multiple times in a day but will not be applicable if consecutive transactions are made at the same restaurant within a gap of 120 minutes or less. So clearly you can't split the payment and enjoy the double dip.
The most highlighted feature of this card is that there are no minimum billing amount requirements and can be used unlimited times in a month unlike other card offers available on PayEazy.
Now, PayEazy is a payment channel provider that helps you pay the restaurant bill. This helps you make a transaction with any debit or credit card and other popular payment gateways and enjoy offers and discounts from their payment partners. You have to keep in mind that not all restaurants available on EazyDiner give Prime benefits and also not all the Prime restaurants are PayEazy enabled. So for a maximum savings combination, a restaurant should be a PayEazy-enabled Prime restaurant.
So a bill of ₹4,000 in a restaurant gets an EazyDiner discount of let's say, 25% and becomes 3,000 and then becomes 2250 instantly on paying via EazyPay with this card!
Complimentary Premium Alcoholic Beverages
This is another unique feature of this card is that at over 200 amazing bars and restaurants, you get to enjoy a complimentary pour of Singleton Single malt Whisky or Black Dog or a glass of Fratelli Wine or a pour of Hapusa Gin per diner in addition to the above savings! Yes, it's unreal!
Every diner gets a complimentary premium alcoholic beverage at over 200 select restaurants.
Complimentary premium alcoholic beverage is available for each diner at select restaurants only.
You can view these select restaurants using the 'Free Drinks' filter on the restaurant listing page.
The offer is applicable if the restaurant booking is done using the EazyDiner App.
The details of the brand and serving size will be at the discretion of the restaurant.
---
Here's how you can avail of maximum discount when you dine in with your IndusInd EazyDiner Credit Card
Go to EazyDiner App/Website
Select a deal at your choice of Prime restaurant and confirm the booking.
After you reach the restaurant and grab your table do inform the server that you have booked a table using EazyDiner.
Enjoy your meal, and open up the application.
To make a payment towards the bill, open the EazyDiner App and select PayEazy and pay with the best card offer you can see.
New to EazyDiner? Download the application and use the referral code: BHAVY9104 to get a ₹500 worth voucher.
Other Benefits
Lounge Access
Domestic: 2 Complimentary Visits/Quarter using Visa Lounge Access Program.
BookMyShow Offer
You can get two free Movie Tickets of ₹200 each every month on bookings made via BookMyShow.
The quota of free tickets is applicable to a Card account (which is inclusive of Add-on Cards).
Now, this is quite a tempting offer since this card is offering absolutely no conditions attached to free movie tickets instead of the usual BOGO offer. All you have to pay is the difference in the ticket price and internet handling fees of BMS. This offer is similar to what I have been using for years on my Yes First Debit Card.
So if you are living in a tier 2 city where tickets are usually around ₹200 per person then two of you are covered for a free movie every month!
Forex Markup Charges
All overseas transactions are levied with a 3.5% +GST as transaction fee.
Fuel Surcharge Waiver
Enjoy a 1% fuel surcharge waiver across all fuel stations in India. This waiver is applicable for all fuel transactions between ₹400 to ₹4000 only. Since no capping has been mentioned by the bank on this card I think it's an unlimited fuel surcharge waiver.
TechnoFino Recommends
Since most of the listings on EazyDiner are limited to bigger cities, I would highly recommend the IndusInd Eazydiner card to you if you are living in tier-1/2 cities and regularly eat out. Even if you have better rewarding PayEazy partnered cards with you, this card makes a lot of sense since you can avail of discounts unlimited times.
The reward rates on this card are not that exciting. But for me, this card is about new experiences like Postcard hotel stays and complimentary alcoholic beverages.
I saw so much noise regarding the high fee for this card. But I feel the fee being asked for is a fraction of the cost of the benefits involved since even on using BookMyShow benefits on this card you will be able to ₹4800 every year. With annual Prime membership, lounge access, and a good reward rate the fee is very much justified.

Are you planning to get hold of the IndusInd EazyDiner Credit Card? Feel free to share your thoughts about this card in the comments below.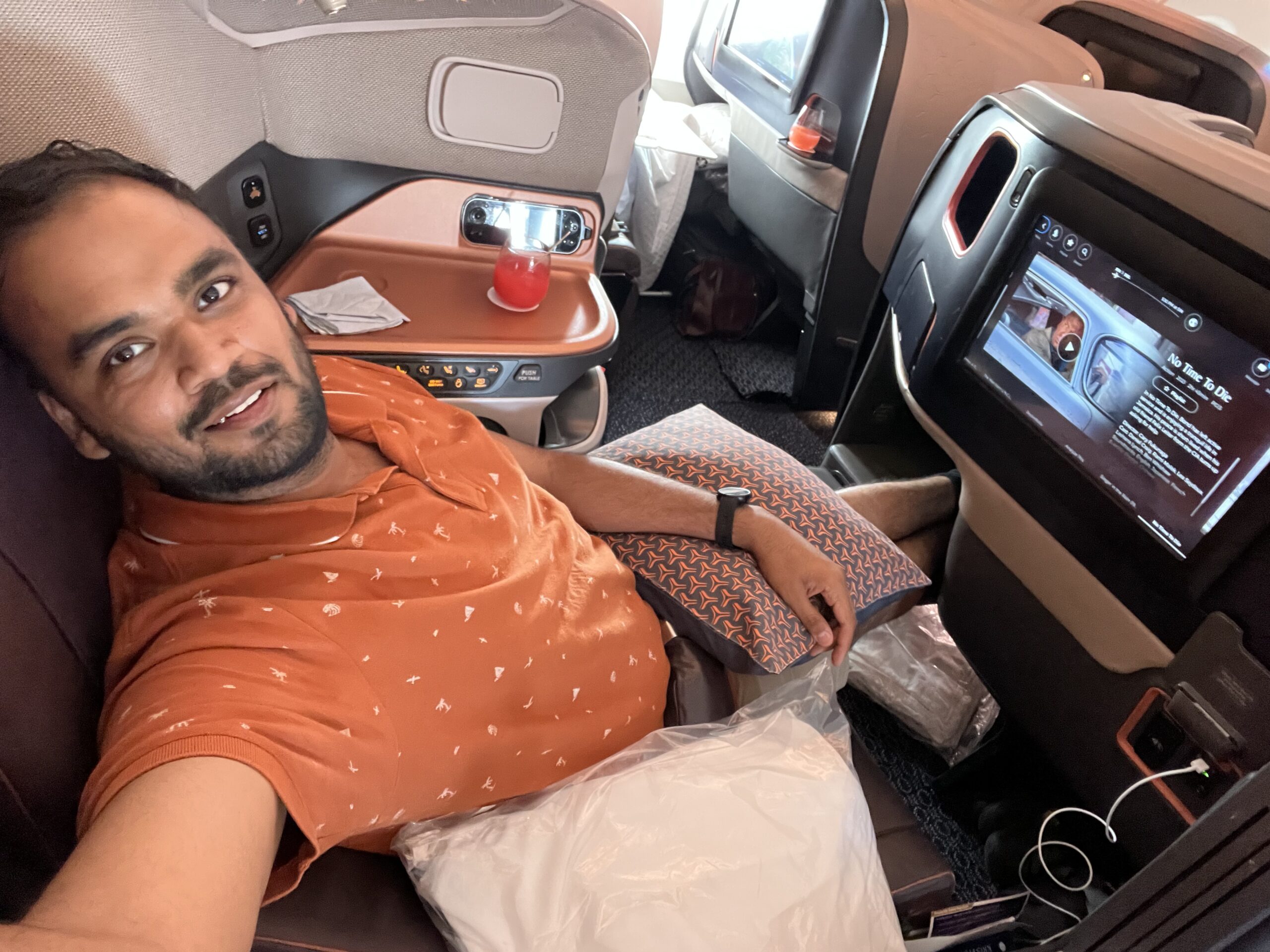 Chief Editor, TechnoFino.
Personal finance nerd! Physics enthusiast and trainer. When not into Physics, he is minting points and hunting for the next best credit card for himself.