Axis Bank recently launched its first worthy miles-based card called AXIS ATLAS and is giving some serious run for the money to the biggest lender in India, the HDFC Bank. This card has been packed with a lot to offer but to enjoy the perks you have to earn your perks
Some find this card super-worthy and others complicated. Read on to know all about this card and let all your doubts fade away!
Charges and Welcome Benefits
| | |
| --- | --- |
| Joining Fees | ₹5000 + GST |
| Welcome Benefits | 5000 Edge Miles |
| Renewal Fees | ₹5000 + GST |
| Renewal Benefits | As per the tier system given below. |
| Renewal Fee Waiver | NA |
Welcome benefits will be credited within 60 days from the date of completing the 3rd transaction within 60 days of card setup.
Reward Accrual
Since Axis Bank is new to the miles game so they have started rewards in a different manner on this card. So instead of the usual EDGE rewards, you are entitled to EDGE Miles on this card.
Spends Area
Reward Rate
Airlines & AXIS EDGE Travel Portal
5 EDGE Miles/ ₹100
All Retail Spends*
1 EDGE Mile/ ₹100
International Transactions
1 EDGE Mile/ ₹100 (Silver/Gold Tier)
2 EDGE Miles/ ₹100
(Platinum Tier)
*Excluding spending on Airlines, Axis Bank Travel EDGE Portal, Insurance (amount > INR 5000), and wallet recharge.
For now, Axis has kept rent payments included in the rewards system on this card.
Tier Benefits
Axis has shown some great innovation in the reward system of this card by introducing what they call a "Tier" system. In this the more you spend the more rewarding this card becomes.
Initially, everyone who gets this card gets an exclusive Silver Tier Membership which comes with a host of benefits given below.
Now as you spend more in your anniversary year you get an upgrade to Gold and Platinum Tiers.
In an anniversary year, when you hit ₹7.5L of spending, you get upgraded to the Gold Tier, and when you spend beyond ₹15L, you get upgraded to the Platinum Tier.
With Gold, you unlock 2 airport meet and greet visits and with Platinum, you unlock 2 more of them in addition to 2 Luxury Airport Transfer Services.
With Platinum, you also get to unlock 2X EDGE Miles on Forex Transactions.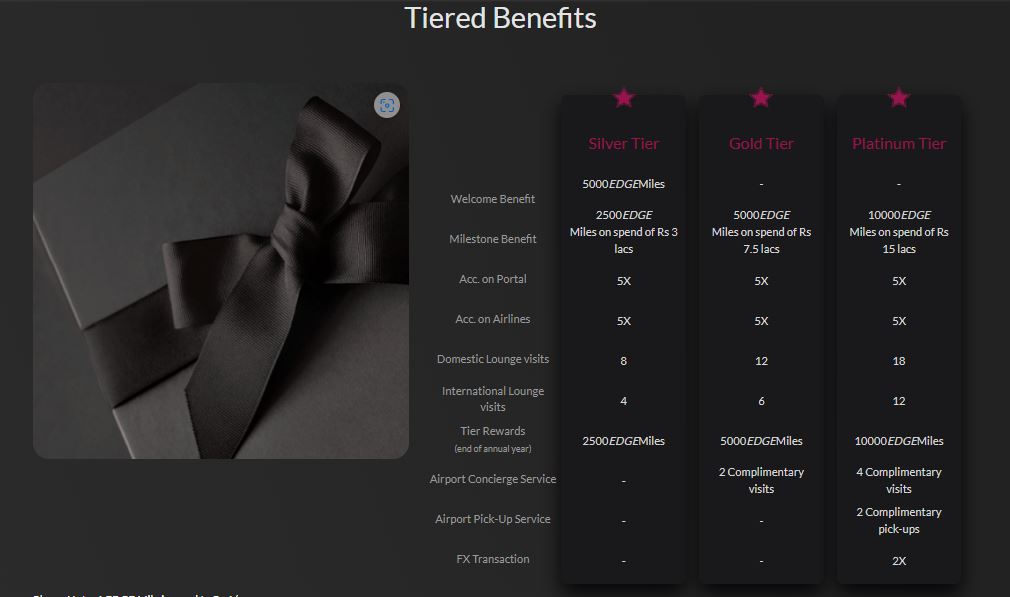 Tier Change
Atlas credit cardholders' tier will be evaluated at the beginning of each anniversary year on the basis of the previous
year's card spending. But tier upgrades are being provided basis the spending in the middle of the year.
For example, if you get your card on 1st April 2022 and start with a Silver Tier and you spend ₹15L within let's say 3 months then you get upgraded to Platinum Tier from that very same time and continue to enjoy it next year also. But if you fail to make the necessary spending in the year 2023-24 then you will be downgraded to Silver or Gold depending upon the spending you have achieved.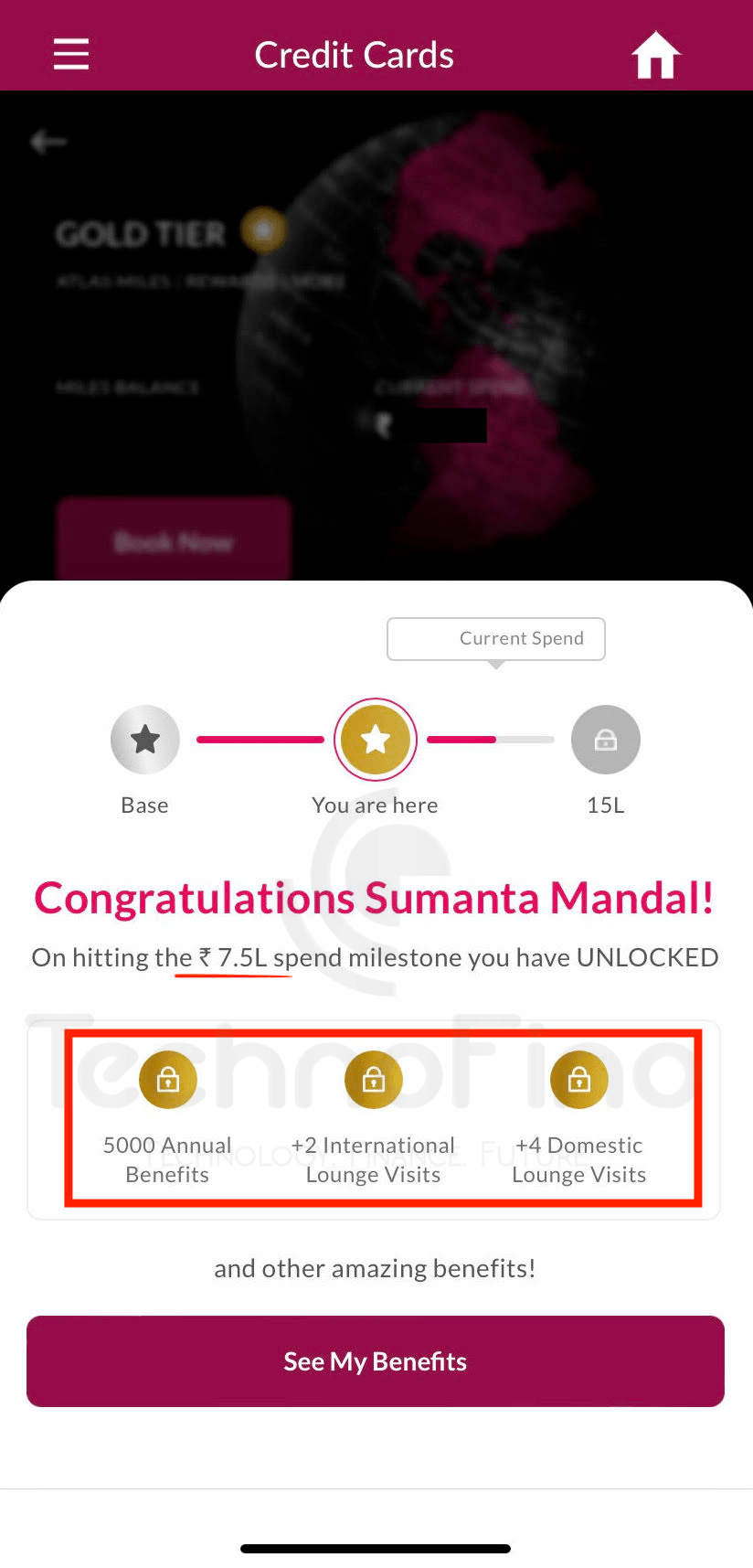 Reward Redemption
| | |
| --- | --- |
| Redemption Option | Redemption Value |
| Booking flights/hotels on Travel EDGE Portal | 1 EDGE Mile = ₹1 |
| Miles Transfer | 1 EDGE Mile = Up to 2 Partner Airmiles |
AXIS ATLAS redemption chart.
Overall the reward rates on this card are a bit low when redeemed for flights and hotels via the AXIS Travel EDGE portal since if we consider milestone benefits the overall reward rate comes out to be around 2% only.
But the real value of this card can only be utilized when it is used to transfer air miles to partner airlines. Since the partner airlines keep on changing so I am attaching the link where we listed all the transfer partners on the TechnoFino Community. The best value which can be obtained is by transferring it to the newly added KrisFlyer which can be used on any Star Alliance Partners else United Airlines can also give you amazing value since they both have one of the lowest taxes and surcharges among the options available. I would advise you to avoid Vistara since the transfer rate is very poor.
For hotel transfer partners we will not recommend you Marriot Bonvoy since the obtained value will be quite less.
TechnoFino Tip – Even if you still wish to do it then first transfer it to ITC and then transfer it to Bonvoy to get a 1 Edge Miles is to 3 Marriot Bonvoy points value with a maximum transfer capping of 60K points per year which I guess is more than enough.
Renewal Benefits
There is no fee waiver condition on this card so it tries to compensate it with milestone and annual benefits.
| | | | |
| --- | --- | --- | --- |
| Tier | Silver | Gold | Platinum |
| Renewal Benefits | 2500 EDGE Miles | 5000 EDGE Miles | 10,000 EDGE Miles |
Above mentioned EDGE Miles will be credited to cardholders' EDGE Miles accounts upon successful payment of the card renewal fees as per the tier achieved on the anniversary date.
Milestone Benefits
Further, this card offers another set of benefits depending upon the yearly spending you make. This feels like a bonus on a bonus!
Spends
₹3L
₹7.5L
₹15L
Milestone Benefits
Total 2500 EDGE Miles
+2500 EDGE Miles = Total 5000 EDGE Miles
+5,000
EDGE Miles = Total 10,000 EDGE Miles
Travel Benefits
What is a travel card without travel benefits?! Axis ATLAS has got loads of it!
| | | | |
| --- | --- | --- | --- |
| Benefit\Tier | Silver | Gold | Platinum |
| Complimentary Airport Lounge Access – Domestic | 8 | 12 | 18 |
| Complimentary Airport Lounge Access – International | 4 | 6 | 12 |
| Airport Meet & Greet | NA | 2 | 4 |
| Luxury Airport Transfers | NA | NA | 2 |
The lounge access limits are fully sharable across guests is another great feature of ATLAS.
International lounge access on Axis Atlas credit card is provided via Dreamfolks.
Forex Markup Charges
Forex Markup charges are standard 3.50% + GST
TechnoFino Recommends
Atlas is overall a very good product if you like playing with the miles since direct redemption won't give you much value and features like Meet and Greet and Luxury Airport transfers are unheard of in this fee range. So if you don't want to pay a hefty charge to hold an Axis Reserve but still want those luxury rides then this card is just for you. Do read the article on Luxury Airport Transfer Services offered in India if you are new to this.
As mentioned in the beginning this card may prove to be complicated for someone who tries to chase the rewards by doing a back calculation before spending. That said, this card belongs to someone who has regular spending of at least ₹7.5LPA as then the cardholder gets to earn 17,500 EDGE Miles and if you are able to spend ₹15LPA then you get to earn 30,000 EDGE Miles! Below these two thresholds, the reward rate is quite average. Further, consider this only if you are a lot into travelling.
With Magnus and Atlas, Axis has really upped the ante and with the recent addition of KrisFlyer, it now has all the travel transfer partners that soon-to-be-exiting CitiBank is providing in India. With similar reward rates but better perks than Premier Miles, I would like to place this card above it but lower than the Citi Prestige. With the way things are going forward, I think Axis Bank will super soon launch a super premium travel credit card to retain the customers of Citi Prestige. So I recommend this card to everyone who for now is looking for its replacement.

What are your thoughts on the new Axis Atlas credit card? Feel free to share them below. If you would like to read more such articles then connect with us on Twitter.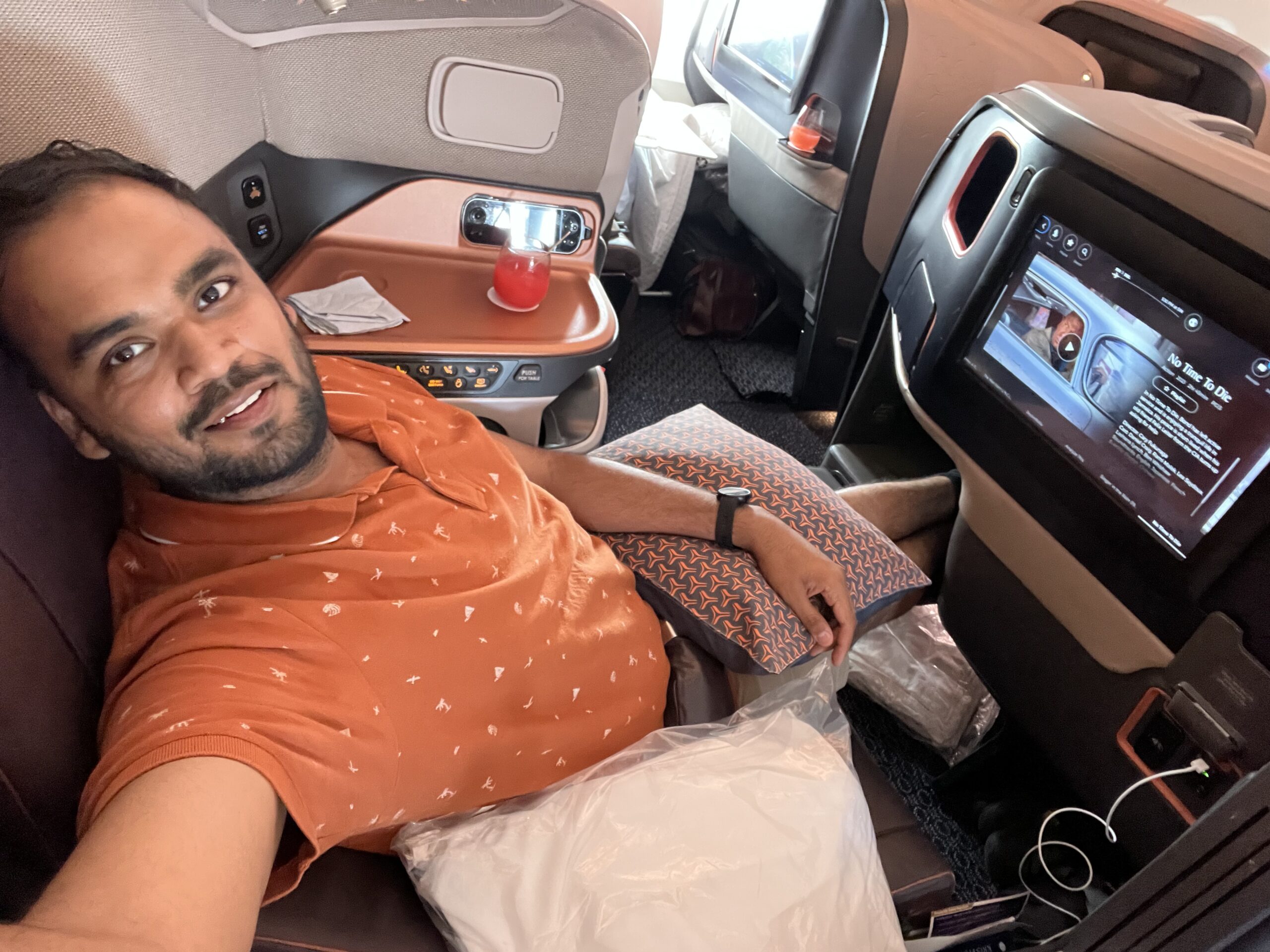 Chief Editor, TechnoFino.
Personal finance nerd! Physics enthusiast and trainer. When not into Physics, he is minting points and hunting for the next best credit card for himself.