SBI BPCL Octane Credit Card is one of the best rewarding fuel credit cards available in India from SBI Cards. I am reviewing all the details about the same and also some negatives of the card which need to be looked into by everyone who is willing to get hold of it.
Charges and Welcome Benefits
| | |
| --- | --- |
| Joining Fees | ₹1499 + GST |
| Welcome Benefits | Get 6000 bonus reward points* equivalent to INR 1500 on payment of annual fees. |
| Renewal Fees | ₹1499 + GST |
| Renewal Benefits | None |
| Renewal Fee Waiver | Spend Based fee reversal benefit – Next year Fee waiver on annual spending of ₹2L. |
*Reward Points will be credited to the cardholder's account within 30 days of the annual fee payment.
I feel the 6000 bonus points which gives you 1500 worth of fuel compensate the joining fees very well. With no renewal benefits and a ₹2L spends-based fee waiver on this card, it will only suit those with high fuel spending.
Reward Accrual
| | | |
| --- | --- | --- |
| Spends Area | Reward Rate | Capping |
| BPCL Fuel & Lubricants (at Pumps) | 25 Reward Points/ ₹100 | 2500 Reward Points per billing cycle |
| Bharat Gas spends (Website and app only) | 25 Reward Points/ ₹100 | 500 Reward Points per billing cycle |
| Dining, Departmental Stores, Grocery & Movies | 10 Reward Points/ ₹100 | 7500 Reward Points per billing cycle |
| *Other Retail Purchases | 1 Reward Point/ ₹100 | NA |
*Except for Mobile wallet upload & Non-BPCL fuel spending.
So this card gives you a 6.25% reward rate on fuel spending plus a 1% fuel surcharge waiver excluding the GST on every transaction at BPCL Fuel outlets for a maximum transaction up to ₹4000. The maximum fuel surcharge waiver applicable is ₹100 per statement cycle per credit card account, which is equivalent to an Annual Savings of ₹1200.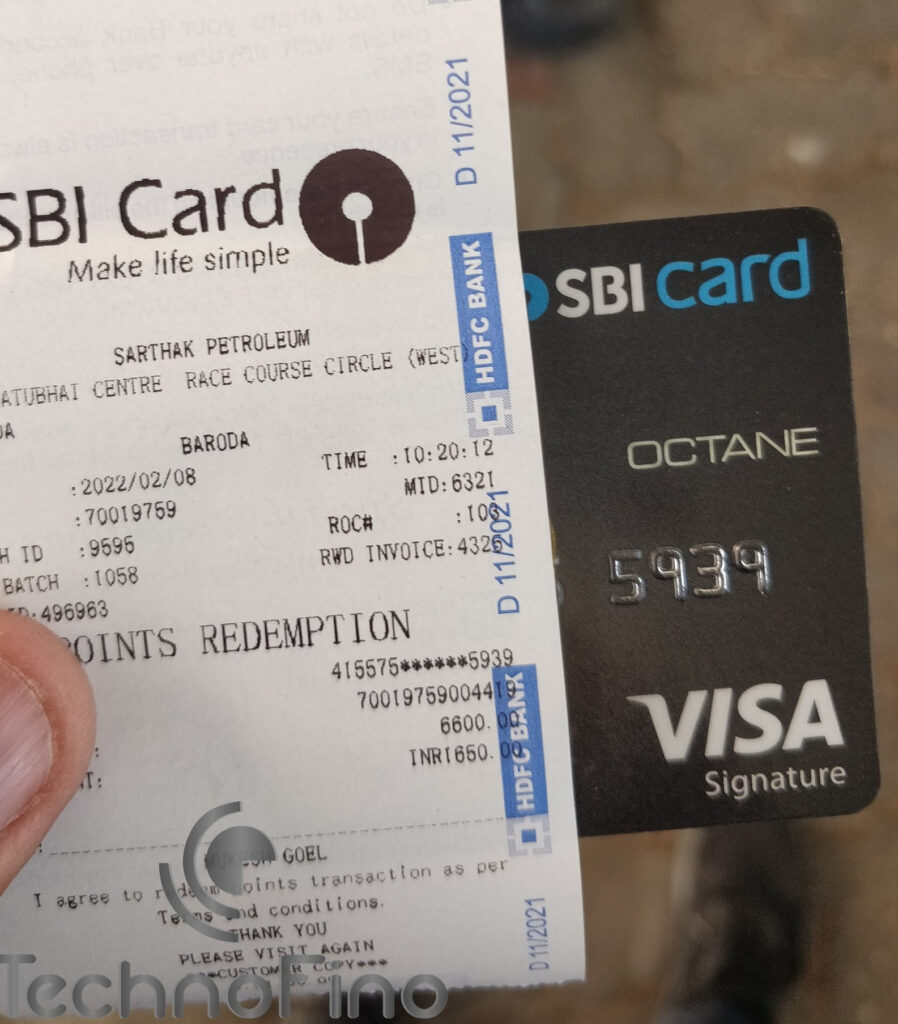 Reward Redemption
| | | |
| --- | --- | --- |
| Spends Area | Reward Rate | Rewarding Spend Limit |
| BPCL Fuel & Lubricants(at Pumps) | 6.25% | ₹10,000 |
| Bharat Gas spends (Website and app only) | 6.25% | ₹2000 |
| Dining, Departmental Stores, Grocery & Movies | 2.5% | ₹75000 |
| *Other Retail Purchases | 0.25% | NA |
The value of 4 points is equivalent to ₹1 if redeemed for fuel. The redemption can be done instantly at select BPCL petrol pumps or can be converted into BPCL vouchers using Shop & Smile Rewards Catalog given in the SBI Cards application.
Remember that these vouchers also can also be redeemed at select BPCL fuel pumps. The list of such pumps though available on the SBI Cards website is highly unreliable. The only problem with this card is redemption for which I am sharing a tip in the last section of the article through which I have made redemption smoother for myself also for this card.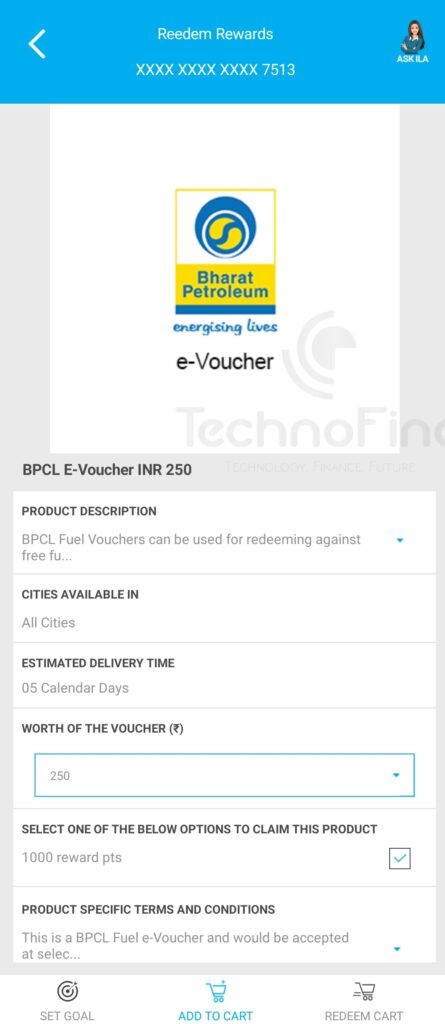 If you would convert the points into vouchers for other brands like Amazon, then the effective value will get reduced as you will get quite a skewed value.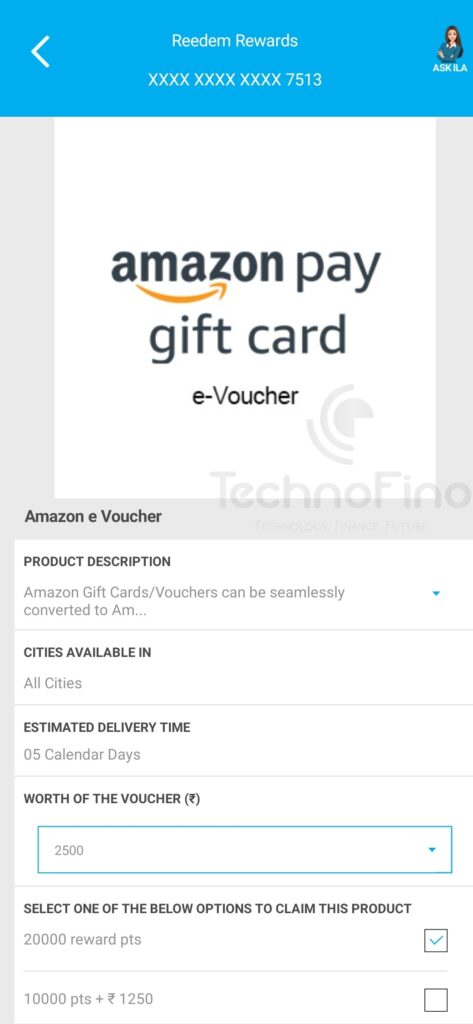 Milestone Benefit
Get e Gift Vouchers worth ₹2,000 from Aditya Birla Fashion Or Yatra Or Bata/Hush Puppies on annual spending of ₹3L which boosts your reward rate by another 0.6%. You will receive an SMS to choose from e-voucher options within 20 days of eligible spending and it will be sent to your registered mobile number/ e-mail-ID within 5 working days of choosing the option.
TechnoFino Maximum
For maximizing rewards on SBI Octane use it for fuel or cylinder refills of a maximum of ₹10,000 per billing cycle will give you ₹7500 worth of fuel every year. But the problem lies in the further difference of ₹80K required to achieve the fee waiver for next year because if you use it only for fuel and factor in the annual fees for next year then reward rates drop to 4.77%.
So for the waiver, I would recommend you to either cross the threshold via dining and grocery spending in which reward rates are better than average, or use it extensively in online SBI Cards promotional offers which SBI Cards is very aggressive with.

I would highly not recommend you to hit the ₹3L spending milestone if you have better cards since the milestone voucher value does not justify the spending requirements.
Lounge Access
1 Complimentary Visit/Quarter to Domestic VISA tie-up Airport lounges.
No shared access for add-on cardholders.
Fraud Liability Cover
Get complimentary Fraud Liability cover of ₹1 Lakh.
TechnoFino Recommends
I have been using SBI Octane for the last two years now and getting quite a good reward on it as my monthly fuel consumption is quite close to the maximum rewarding limit of this card. Initially, I was only accumulating points on this thinking that would do redemption in bulk but then I heard about many people facing redemption issues for this card.
So I started going into the details of the redemption process and found that fuel pumps listed on the website are quite far away from my home and when I called some of the pumps they said they don't redeem the points. Finally one day I got hold of an SBI card agent at a BPCL petrol pump and, he gave the information about the nearest pump which can instantly redeem them for fuel, Now the whole process is smooth since the bunk is located at less than a km away.
I highly recommend this card to everyone having fuel spends to the tune of ₹10,000 per month to get some respite from skyrocketing fuel prices in India.
Are you using an SBI BPCL Octane Credit Card? Feel free to share your experience in the comments below.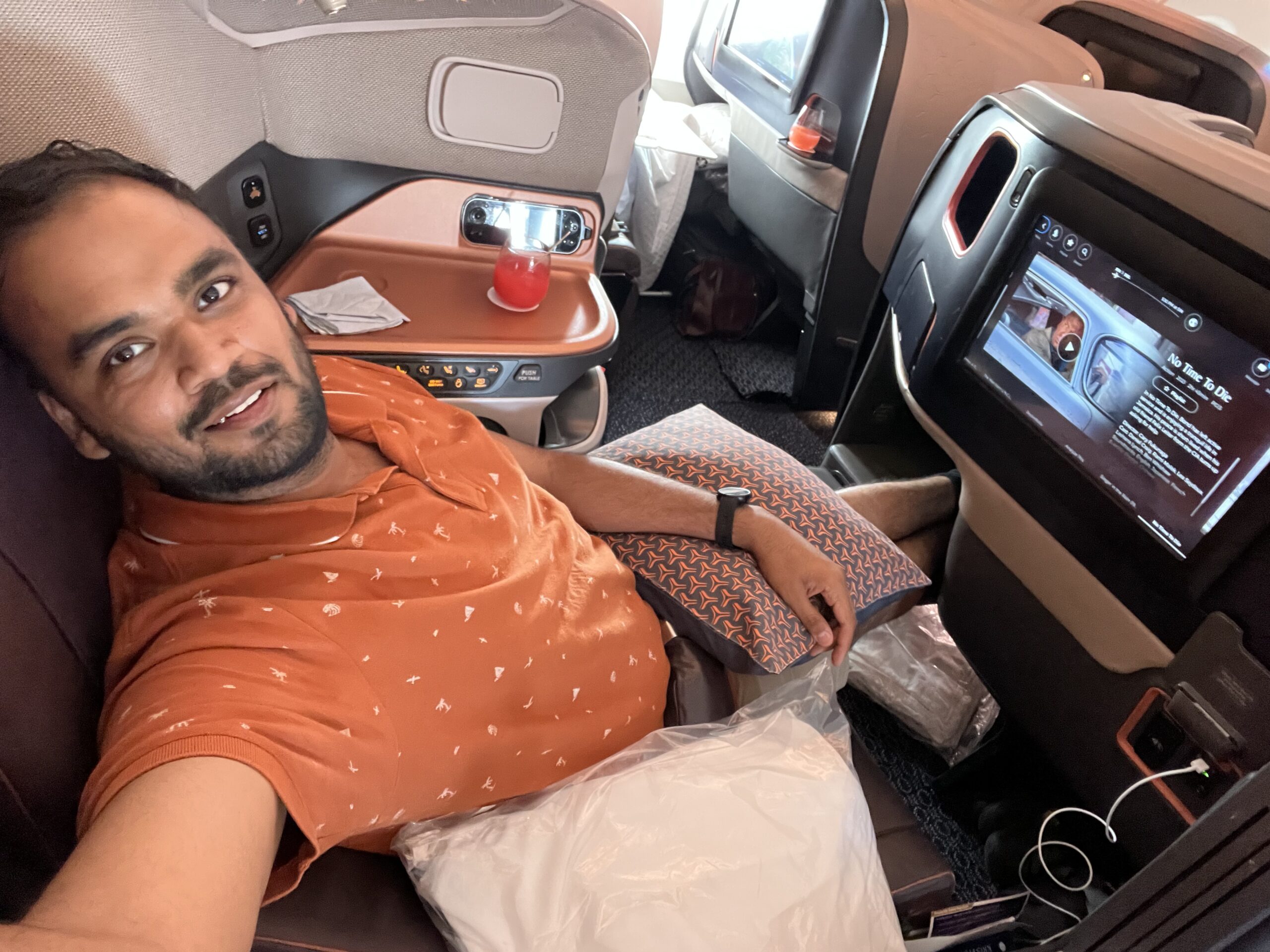 Chief Editor, TechnoFino.
Personal finance nerd! Physics enthusiast and trainer. When not into Physics, he is minting points and hunting for the next best credit card for himself.