Editor's note: This is a recurring post, regularly updated with new information and offers. Last Updated 10th July 2023.
American Express has finally started issuing cards since they were put under an embargo by the RBI. Their most sought entry-level but highly rewarding card is known as AMEX Membership Rewards Credit Card and the other one is AMEX Gold Charge. If used correctly, these cards can help you yield good reward rates whether you hold entry-level cards or premium ones. With the recently started referral program, you can further take advantage of the joining offers.
Let's check out how we can maximize rewards on it!
Charges and Welcome Benefits
Joining Fees
₹1,000 + GST First Year Free (Via Referral Offer)
Welcome Benefits
2000 Membership Reward Points on spending ₹5,000 within 90 days (Referral Cards)
4000 Membership Reward Points on spending ₹15,000 in the first 90 days (Paid Cards)
Renewal Fees
₹4,500+ GST ₹1,500+ GST (Referral Offer)
Renewal Benefits
NA
Renewal Fee Waiver
50% waiver on ₹90K spend and 100% waiver on ₹1.5L spend.
Add on Cards
2 complimentary supplementary cards are provided.
Clearly joining via referral gives you an edge as you save complete joining fees and 67% of the annual fees every year with MRCC!! Though you lose the 2000 welcome MR points, you are still in a better position than direct application.

Check out the link for detailed information.


If you face any problems in the application process you can contact me on Twitter.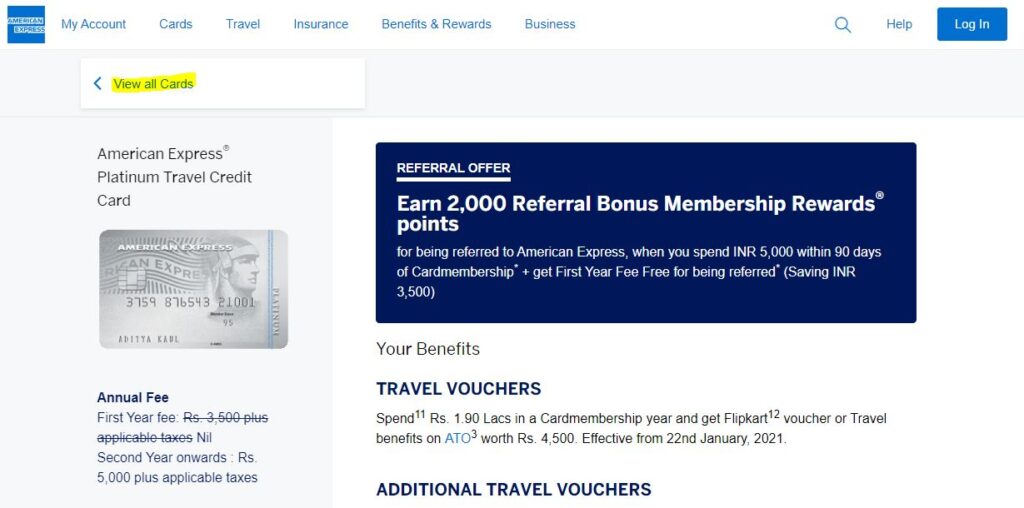 You can choose to apply for any AMEX card from the link in the banner. To choose and apply a card of your choice simply click on the View All Cards option and select one. All the information for that particular card is readily available on the website.
Regular Reward Accrual
| | |
| --- | --- |
| Spends Area | Reward Rate |
| All Spends* | 1 MR Points/ ₹50 spent |
*Spends exclude fuel, insurance, and utility Transactions.
Reward points never expire.
You get to earn MR points even on wallet loads.
As you can see base reward rate is really poor and the maximum that you can yield out of it will be less than 1% whether you go for their Gold Collection voucher redemption or transfer them to Marriot Bonvoy/Taj Hotels.
Bonus Reward Accrual
The major value of AMEX cards lies in completing their monthly or yearly targets. MRCC even though devalued recently in 2021 is still the most popular card among AMEX enthusiasts because of the value that it offers in the form of bonus points. I will discuss the effective value of these bonus points later on in our most sought TechnoFino Maximum section.
Target 1: Spend ₹1500 four times a month and get 1000 Bonus MR Points every month.
Repeat every month to get up to 12,000 MR Points every year.
Target 2: Spend ₹20,000 or above and get 1000 MR Points over and above the points earned by completing the 1st target, every month. For this offer, you have to enrol yourself here.
AMEX Reward Multiplier
AMEX has a Reward Multiplier portal just like HDFC Smartbuy from where you can purchase gift vouchers or do affiliate shopping and get 2X the normal reward points.
| | |
| --- | --- |
| Spends Area | Reward Rate |
| Reward Multiplier | 2 MR Points/ ₹50 spent |
Reward Redemption
There are the following redemption options for MRCC.
Statement Credit/ Pay with Points
AMEX allows you to take a statement credit on eligible transactions or pay with points on select merchants while entering OTP for your transaction at a value of 25p/point. Most of the new AMEX cardholders use this redemption method but trust me there can't be a method worst than this to use your MR Points. They are much more valuable than this so kindly ignore these two options.
Travel With Points
Another method to redeem your MR points. With this, you can purchase flights, prepaid hotels, car rentals, and more on AmexTravel. Again this gives you a value of 25p/MR point and is highly not recommended.
Insta Vouchers & Gold Collection
AMEX further offers you a huge variety of instant vouchers against your MR points which have different values for different brands. In this section, there are certain brand vouchers like Amazon, TAJ, BigBasket, Croma, Flipkart etc. which give better value over others and are called Gold Collection vouchers from AMEX. For redeeming the gold collection you need to redeem vouchers in multiple of 18,000 or 24,000 MR points.
| | |
| --- | --- |
| Voucher | Value Per Point |
| 24K Gold Collection – 9000 Amazon Voucher | 37.5p/MR Point |
| 18K Gold Collection – 7000 Amazon Voucher | 38.8p/MR Point |
| 24K Gold Collection – 14000 Taj Hotels Voucher | 58.33p/MR Point |
| 18K Gold Collection – 9000 Taj Hotels Voucher | 50p/MR Point |
Just for an idea, I have presented some values for Gold Collection as Amazon and Taj give the highest and lowest monetary value per point. Also, keep in mind that AMEX vouchers can only be used to book Taj Properties at non-discounted rates. Amazon voucher option is good for cashback lovers while Taj or Vistara vouchers are good for those who are into travelling.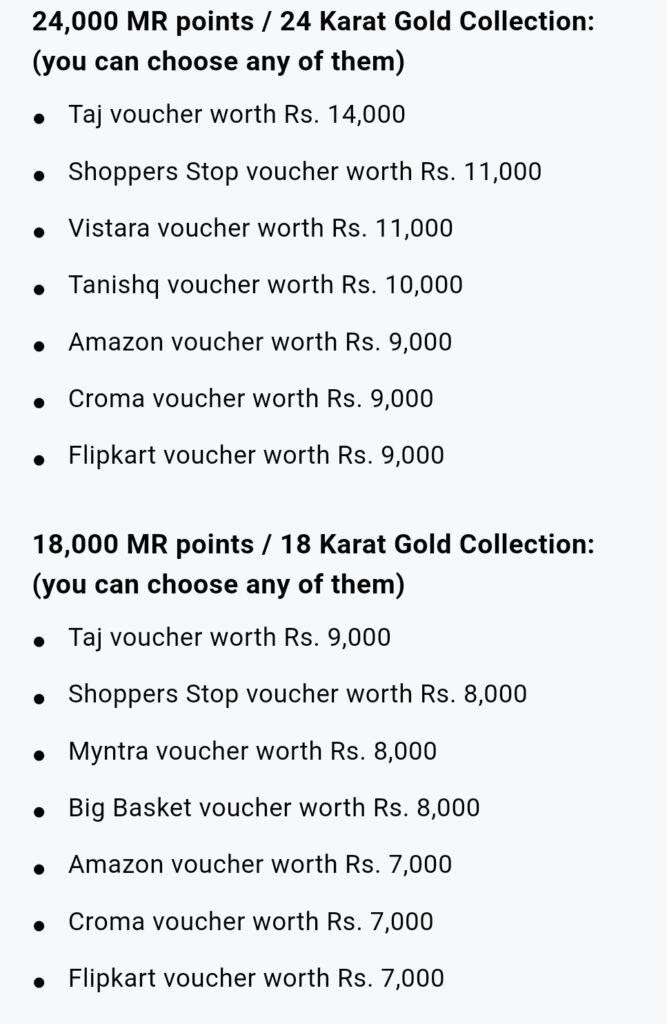 Sometimes AMEX brings up Hot Rewards on particular brand voucher redemption which may give a very tempting value. You just need to keep an eye on them.
Transfer Points
Now, this is the hottest redemption option for MR points and if you can play well with this you can yield values of even greater than a rupee per point.
Airlines Transfers
AMEX allows you to transfer points to 8 different airline partners and some of them are so unique that none of the Indian credit cards allows you to transfer points to them like Asia Miles. We have a curated list of all AMEX airline transfer partners here. For booking award tickets using points, you can refer to this post on the TechnoFino Community.
Hotel Transfers
Now, this is the most sought redemption option since anyone with a Platinum or Gold status with Marriott Bonvoy can just extract a value of more than 1Re/MR point by transferring a 1:1 ratio with suite upgrades, breakfast and lounge access with complimentary drinks are an added plus. Since AMEX is the sole transfer partner to Marriott Bonvoy so many points minter use MR points only for transfer to Marriott. What remains to be seen is what value it will offer once Marriott Bonvoy goes full dynamic since January 2023.

Other than this you can transfer to Hilton Honors also but the value is not that great as compared to Marriott. We have curated a complete list of AMEX hotel transfer partners here.
It takes about 3-5 days to transfer Amex MR Points to various loyalty programs so transfer them well in advance to use them.
TechnoFino Maximum
Case 1: If you spend ₹1,500*4 (₹6,000) transactions per month then you get to earn 13440 MR points in a year and get a reward rate of 7.1% even if you redeem for Amazon Vouchers. But remember that you need to pay annual fees of ₹1,500 (discounted annual fees only on referral) in this case and reward rates decrease to 4.63%.
Case 2: If you spend ₹20,000 per month and also complete target 1 simultaneously whether by doing (₹1.5K X 4 times + 14K cumulatively or ₹5K X 4 times). Then you get to earn 28800 MR points in a year and get a reward rate of 4.60% even if you redeem for Amazon Vouchers. No renewal fee is applicable in this case.
So anyways you get to earn a good reward rate of a minimum of 4.63% which is huge for an entry-level credit card. Since AMEX charges zero fuel surcharge on HPCL pumps so you can fill fuel of 6K every month to complete your monthly milestone bonus points. Though you won't get Regular MR points on this.

Case 3: The real earning potential of AMEX lies in its Reward Multiplier where you get 2X reward points on MRCC and the reward rate increases by almost 60bps.
Although AMEX gives no rewards on fuel purchases still you can buy BPCL vouchers using Reward Multipliers and redeem them at your nearest fuel bunk to get an exceptional reward rate of up to 20.66%! (Who Knows)! So it beats all our Best Credit Cards in India For Fuel Spends.
TechnoFino Tip: Always try to split your transactions in multiples of ₹1500 to reach your milestone faster.
Fuel Surcharge Waiver
0% for HPCL transactions less than ₹5,000,1% fee per transaction is applicable for all HPCL transactions on and above ₹5,000.
1% of the transaction value subject to a minimum of ₹10 + applicable taxes, will be charged as a convenience fee at fuel stations operated by the Public Sector Oil Marketing Companies BPCL and IOCL.
2.5% of the transaction value subject to a minimum of ₹10 + applicable taxes, will be charged as a convenience fee at fuel stations of all other Oil Marketing Companies (except HPCL, BPCL and IOCL).
Forex Markup Charges
Forex Markup charges are standard 3.50% + GST
Eligibility Criteria
For MRCC income proof of a minimum gross ₹6LPA is required whether you are salaried or self-employed. AMEX doesn't process applications on a Card-to-Card basis.
Your CIBIL score should be a minimum of 750.
You must have an address proof of any serviceable area.
Serviceable City List- Guntur, Hyderabad, Krishna, Medak, Rangareddy, Visakhapatnam, Vizianagaram, Chandigarh, Jaipur, Ahmedabad, Gandhinagar, Bardoli, Surat, Vadodara, Ambala, Jhajjar, Panchkula, Bengaluru, Kochi, Bhopal, Indore, Mumbai, Pune, Raigad, Thane, Bhubaneswar, Khurdha, Mohali, Chennai, Coimbatore, Erode, Kanchipuram, Krishnagiri, Salem, Tiruvallur, Gautam Buddha Nagar, Hooghly, Howrah, Kolkata, North 24 Parganas, South 24 Parganas, Delhi, Noida, Ghaziabad, Gurgaon, Faridabad, Vijayawada, Ernakulam, Secunderabad, Aluva, Ropar, Hosur, Sriperumbudur, Tiruppur, Baramati, Navi Mumbai, Lucknow, Trivandrum, Mysuru, Nasik, Nagpur, Ludhiana.
AMEX has recently started serving the following Tier 2/3 cities as well
Agra, Ajmer, Allahabad, Ambala, Amritsar, Aurangabad, Chittoor, Dehradun, Goa, Guntur, Guwahati, Jodhpur, Kanpur, Kolhapur, Kozhikode, Kurnool, Madurai, Meerut, Patiala, Raipur, Rajkot, Ranchi, Thrissur, Trichy and Udaipur.
On applying for an MRCC card via the link above you get this card First Year Free and a 67% discount on next year's renewal fees as well. Further, you are set to earn 2000 Membership Reward Points on spending ₹5,000 within 90 days!
TechnoFino Recommends
AMEX is one of those cards in which one redemption option can't fit everyone. Some find solace in gold collection vouchers and others in Marriott Bonvoy transfer. Miles enthusiasts can extract value from airline transfers too. So there is something for every AMEX card holder. While redemption opportunities are a lot I wish AMEX would bring 3X and 5X offers from time to time just like in 2020 so that everyone can rack up some points fast!
Are you planning to get the American Express MRCC? Feel free to share your thoughts in the comments below.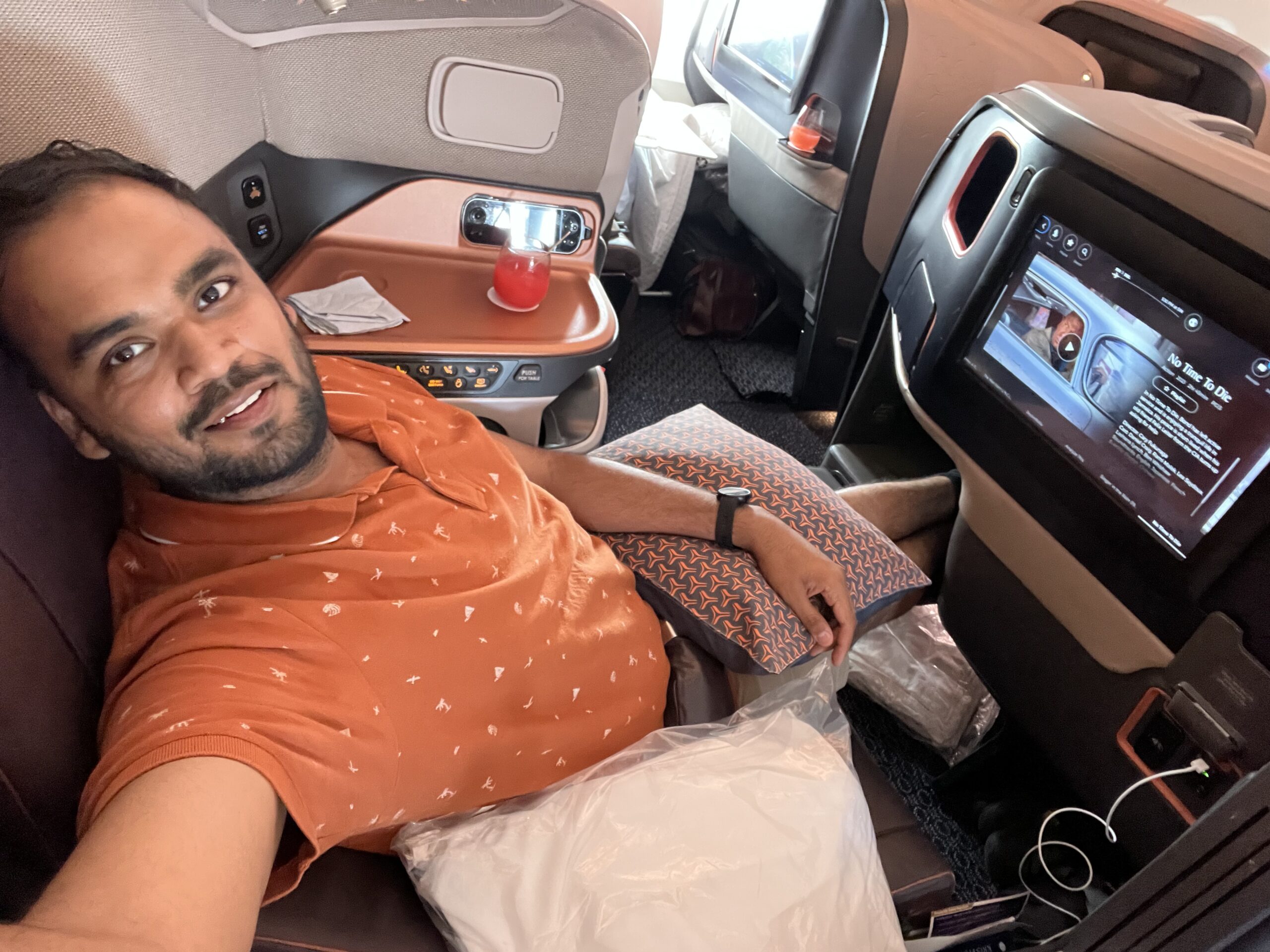 Chief Editor, TechnoFino.
Personal finance nerd! Physics enthusiast and trainer. When not into Physics, he is minting points and hunting for the next best credit card for himself.