American Express Centurion Credit Card Review After Using It For 2 Years: The Most Exclusive Credit Card In The World
Original Post By Ujjwal Sachdeva, Edited By Sumanta Mandal.
TF Community Thread & Discussions: https://www.technofino.in/community/threads/american-express-centurion-credit-card-review-the-most-exclusive-credit-card-in-the-world.14410/
The American Express Centurion Credit card, also known as the Amex Black card, is widely regarded as the most prestigious credit card globally. It offers exceptional lifestyle benefits that are unmatched by any other bank. However, it's important to note that this exclusive credit card comes with substantial fees. Furthermore, it is not accessible to everyone through a standard application process. Instead, it is a true invite-only credit card reserved for a select group of individuals worldwide.
I'm Ujjwal, and I have been using the Amex Black card for the past two years. In this article, I will share the benefits you actually get from this highly prestigious credit card. We will explore whether the fees, both annual and joining, are truly justified, along with a few additional considerations.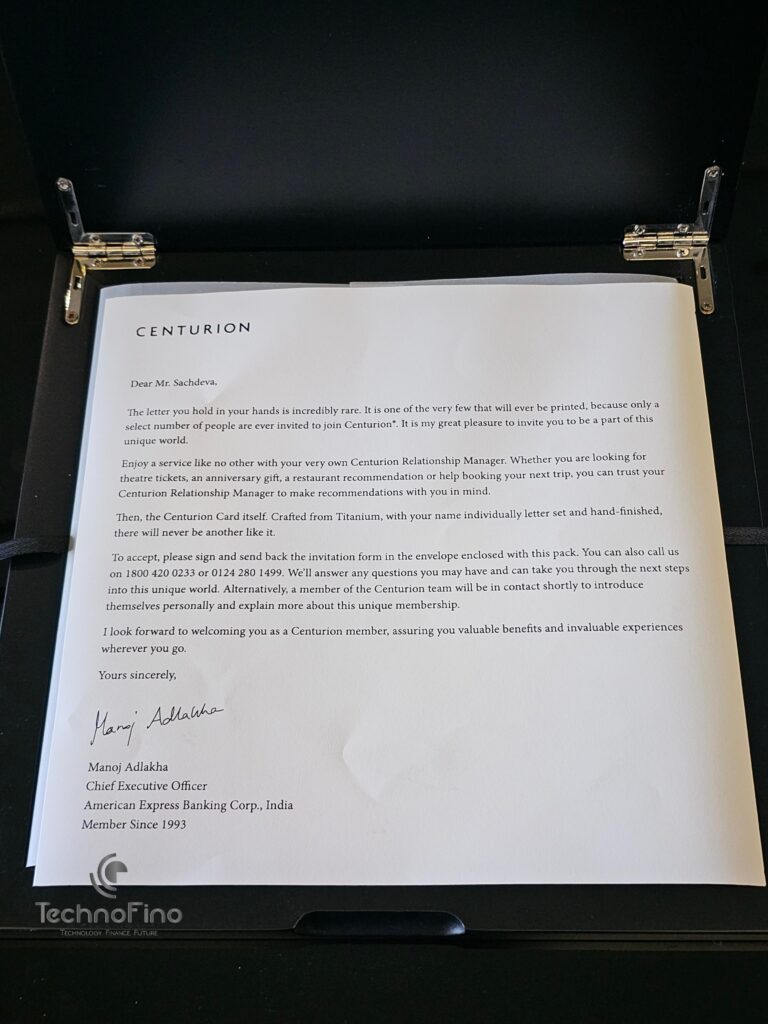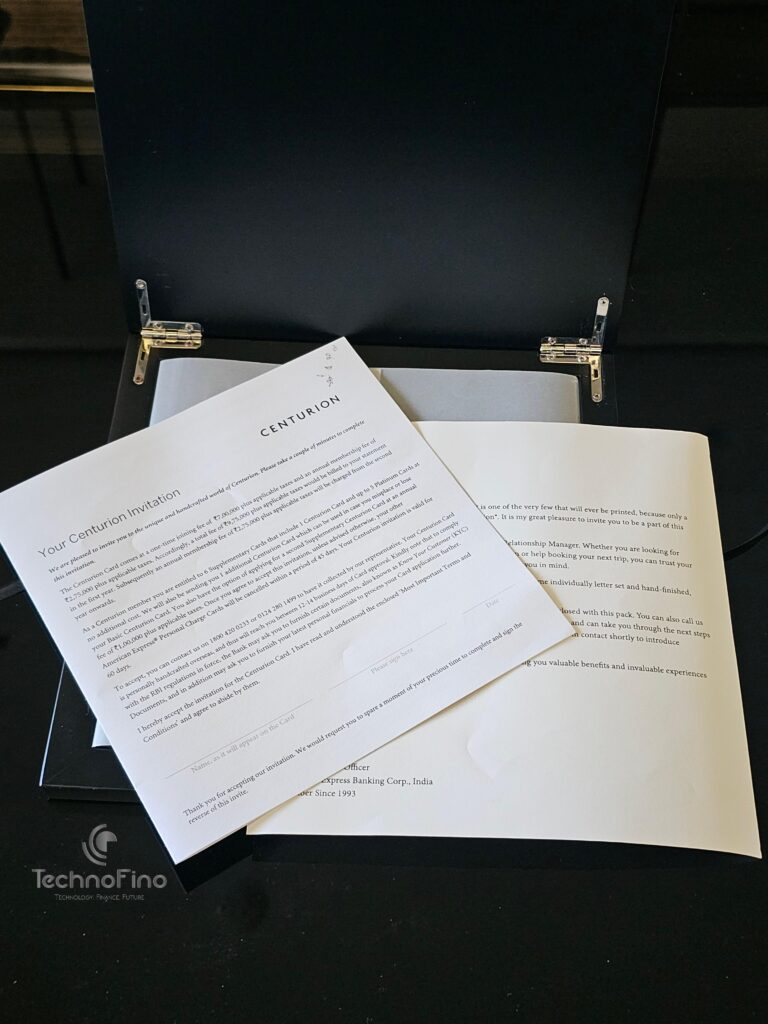 Joining and Annual Fees:
The Amex Centurion credit card in India carries a substantial initiation fee of Rs. 7,00,000 + GST, in addition to a joining fee of Rs. 2,75,000 + GST. This means that at the time of joining, you will be required to pay Rs. 9,75,000 + GST, amounting to a total of Rs. 11,50,500 to Amex India.
For each subsequent year, starting from the second year onwards, you will be required to pay an annual fee of Rs. 2,75,000 + GST, making a total of Rs. 3,24,500 as annual fees.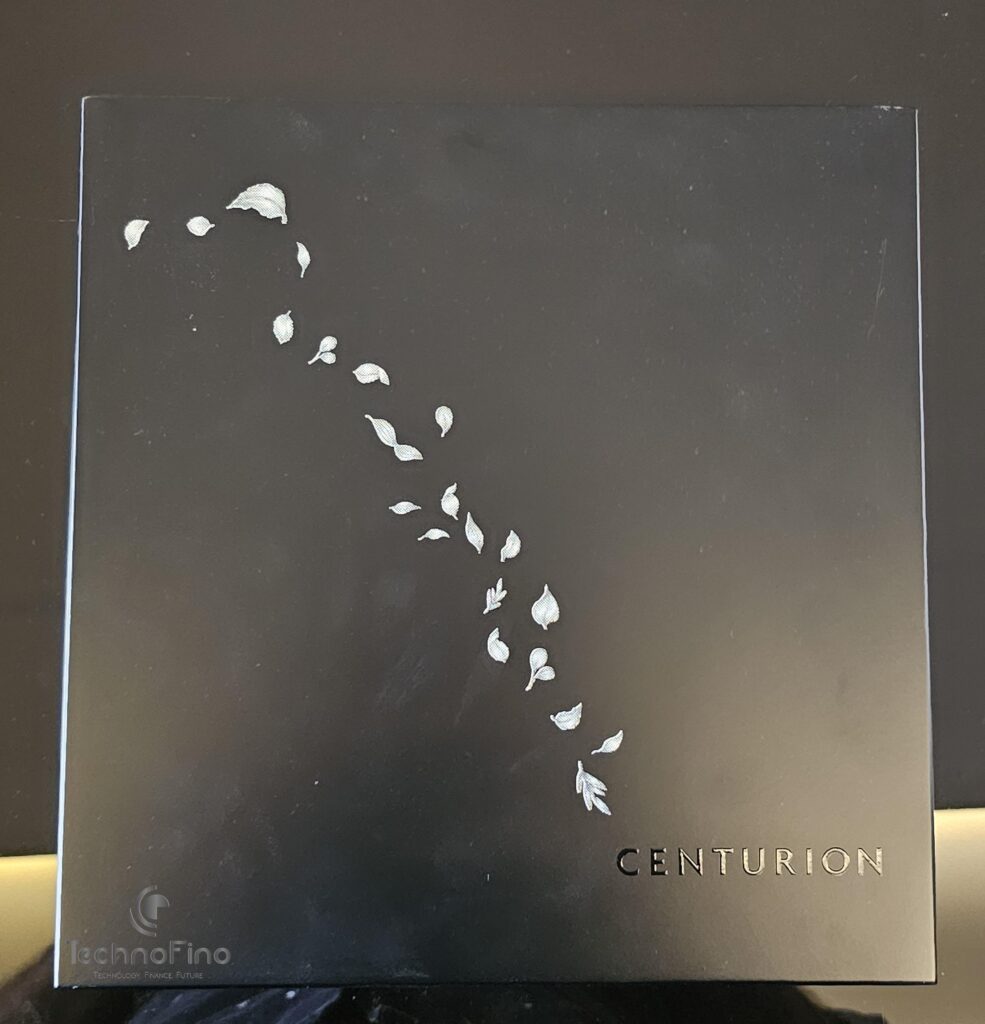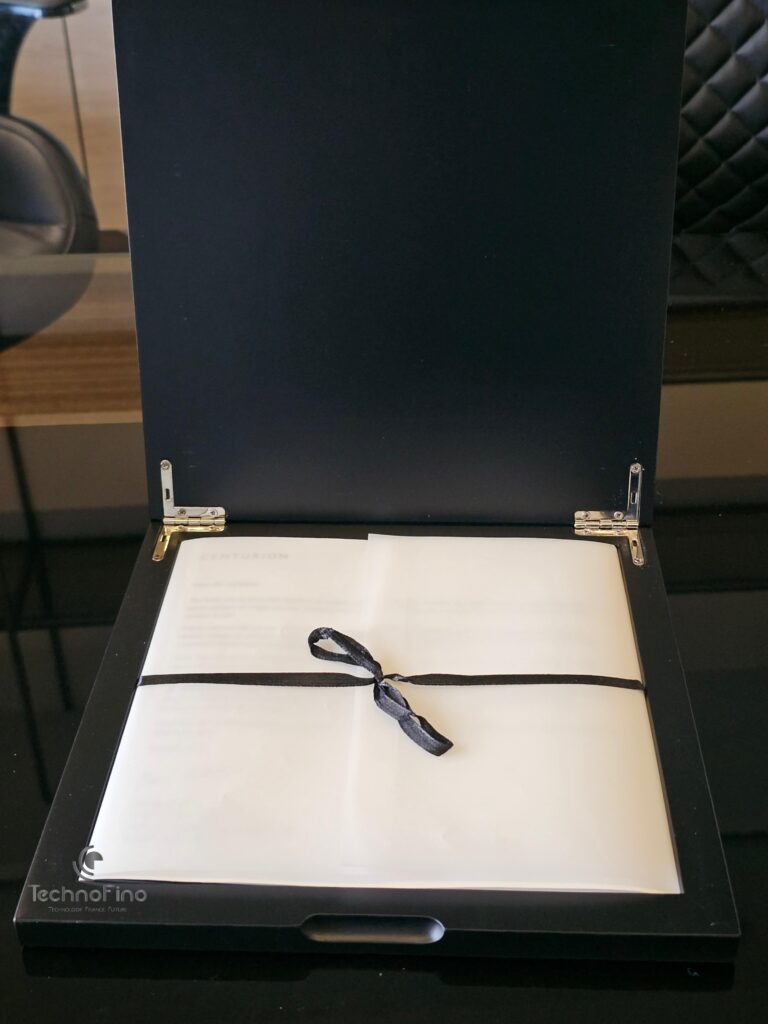 Welcome & Renewal Benefits:
Unfortunately, there are no specific joining or renewal benefits available with the Centurion credit card.
How to Get the Amex Centurion Credit Card:
The Amex Centurion Card is not available to everyone. When I received my invitation in 2021, Amex informed me that there were only a few hundred Centurion members in India. This exclusive credit card operates on an invitation-only basis. You cannot apply for this card directly, but you can request Amex to review your profile, and if they deem you eligible, they will extend an invitation to you.
Typically, individuals who hold an Amex Platinum Card and consistently spend a substantial amount for two to three years are considered potential Centurion customers. However, there are no fixed rules or guarantees regarding the invitation process. Amex evaluates each customer on a case-by-case basis.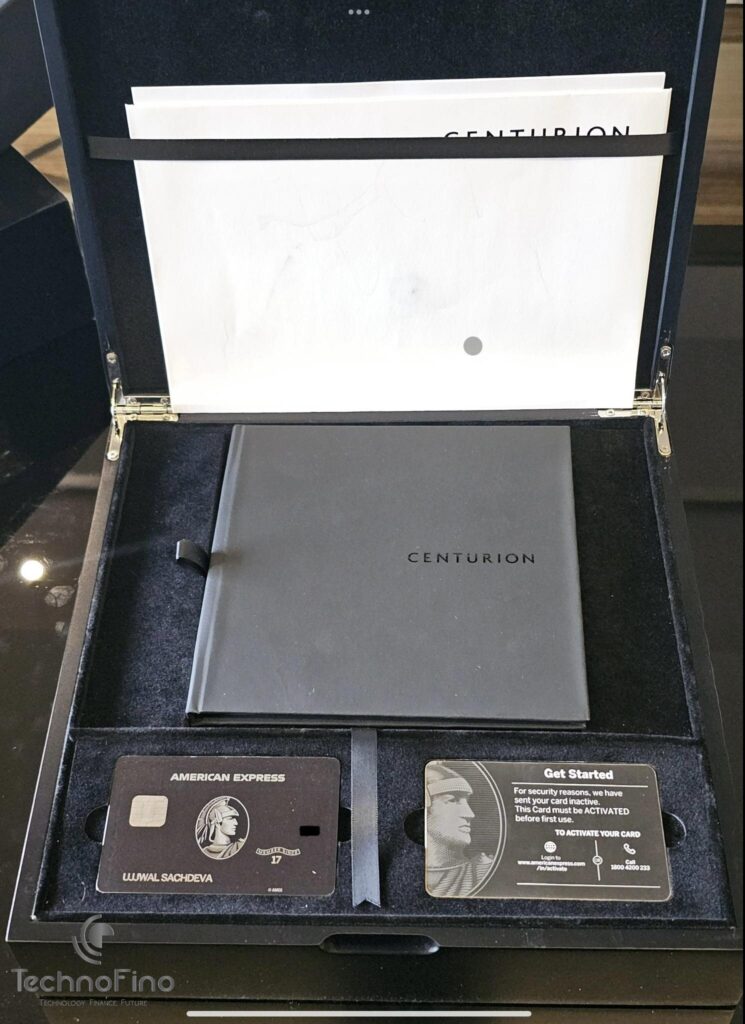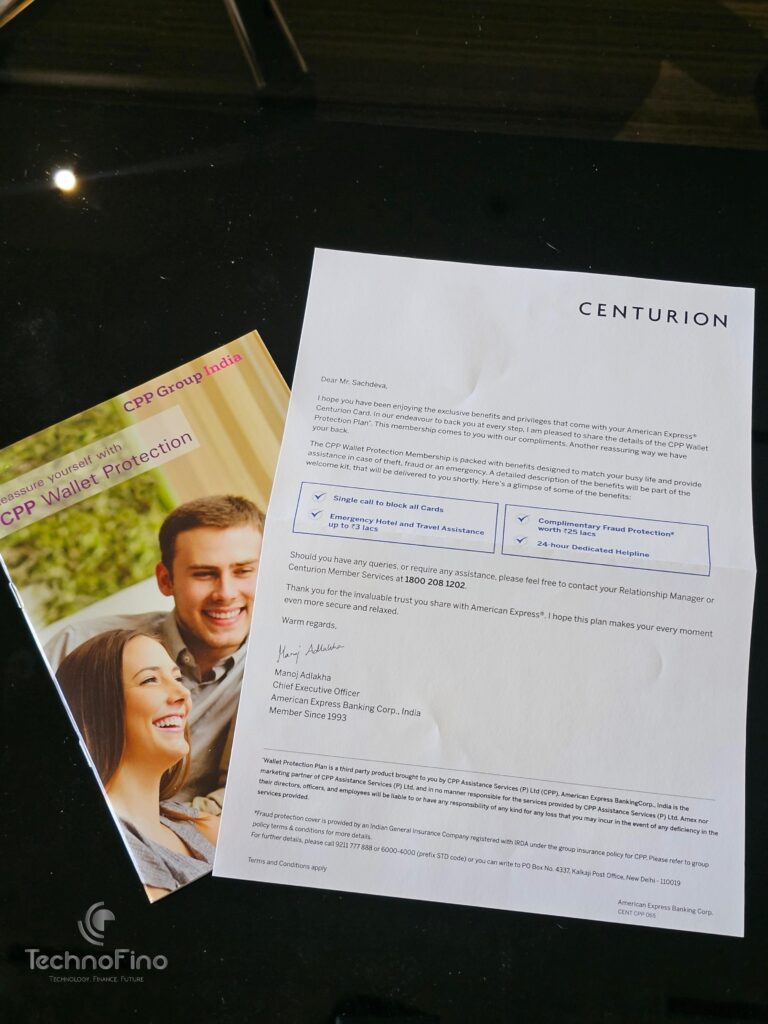 Benefits We Receive:
To be candid, the Amex Centurion card offers a wide range of lifestyle benefits. While not all of them may be useful to everyone, it largely depends
on your individual lifestyle. What may be valuable to me might not hold the same appeal for someone else, and vice versa.
Amex does not publicly disclose the specific benefits of the Centurion credit card on their website. However, I will attempt to provide a comprehensive list of the benefits and perks associated with the Amex Black card.
Complimentary Memberships:
1. Hilton Honors Diamond Tier
2. Marriott Bonvoy Gold Elite
3. Hertz President Circle Five Star
4. Taj Epicure
5. Radisson Rewards Gold Tier (now known as Premium Status) 
6. ITC Culinaire Membership
7. Emirates Gold Membership
Perks You'll Enjoy with this Card:
No pre set limit, you can even buy a car on a single swipe.
Complimentary Night in any Oberoi Hotel: You will receive acomplimentary night stay in any Oberoi Hotel each year, which can beavailed during your birthday month.
Complimentary Suite Night at Taj Hotels: Once a year, you are entitledto a complimentary suite night stay at select Taj Properties.
Etihad Upgrade: When booking Etihad business class tickets, you havethe opportunity to be upgraded to first class for free, subject toavailability and specific routes.
Meet & Greet and Airport Transfer: For international travel, when youbook your tickets using the Amex Centurion card, you will receive complimentary airport transfers in India (from home to the airport for departures) and free meet and greet services upon arrival at selected international destinations. Additionally, you'll also receive these services upon arrivals in India.
Hotel Credit & Room Upgrade: Unlike the Platinum Card, the Centurion Card offers additional benefits with Fine Hotels and Resorts (FHR). Along with the basic FHR benefits, you receive an extra US$100 or US$200 food and beverage or spa credit, along with a room upgrade at the time of reservation, for a minimum two-night stay.
Relationship Manager: One of the most valuable aspects of the Centurion Card is having a dedicated Relationship Manager (RM). Your RM becomes your go-to contact for all travel, concierge needs, and reservations. Having a reliable RM just a phone call away is a significant advantage and one of the primary reasons I value this card.
Exclusive Invitation to Private Events: As a Centurion cardholder, you receive exclusive invitations to private events. These invitations extend to the cardholder and one guest.
₹50,000 Worth of Taj Vouchers: Twice a year, when you make eligible bookings for domestic travel or stays worth ₹100,000, you receive ₹50,000 worth of Taj vouchers.
Complimentary Cyber Threat Coverage: Enjoy ₹1 million worth of coverage against cyber threats, providing added peace of mind.
Coverage for Tangible Goods: Protect your tangible goods against loss or damage within 90 days of purchase, providing an extra layer of protection.
Preferential Airfares: When booking through American Express Travel & Lifestyle Concierge or your Relationship Manager, you can access preferential airfares on select world-class airlines.
Reward System:
Earn 6 Membership Rewards (MR) Points for every ₹200 spent using the Amex Centurion Credit Card.
Reward Rate: 3% MR Points
10X MR Points (60 MR Points for every ₹200 spent) when shoppingthrough the American Express Reward Multiplier.
Reward Rate: 30% MR Points
Redemption:
You have various options for redeeming your MR Points. The best option is transferring your MR Points to Amex's hotel and airline partners. For a complete list of transfer partners and transfer rates, please refer to Amex's website.
Hotel Transfer Partners: Click Here
Airline Transfer Partners: Click Here
Now, let me share my experience with the Amex Black Card and why I opted for this credit card.
Invitation & Card Delivery:
In 2021, I received an exclusive invitation from Amex India to become a Centurion card member and upgrade my Amex Platinum card to the Amex Centurion. I accepted the invitation, and the card processing began in Singapore. Afterward, the card was delivered to my mailing address within approximately 14-20 days, enclosed in a medium-sized metal box. The box contained two cards: the main Centurion card made of Titanium and another Centurion card made of plastic.
Why I Selected Amex Centurion:
When you travel a lot and require a credit card with substantial spending power, your options are limited. One of the top choices is the Amex Centurion card. This card liberates me from the concerns of available credit limit. While I also possess Axis Reserve, Magnus, and other super-premium credit cards, they cannot meet my spending needs.
The second most significant reason is the dedicated relationship manager assigned to Centurion cardholders. With just a call to my RM, all my travel and other needs are taken care of. This benefit is incredibly advantageous for someone like me who travels extensively for business and lacks the time to manage all the bookings and arrangements.
Let me share an incident: During my visit to Paris with clients, we decided to visit one of the busiest night lounges, only to find a long line outside. I immediately contacted my RM, requesting assistance. He assured me that he would handle it within 30 minutes. To my surprise, within 15 minutes, a representative from the lounge came outside to receive us. This incident truly exemplifies the power of the Centurion card.
FHR is certainly a useful tool for me and most of the times I have been upgraded from base to at-least one bedroom suites in some of the finest hotels in the world. I also did an all points booking via Hilton Honors at Waldorf Astoria Dubai DIFC for 5 nights and due to my Hilton Honors Diamond status was upgraded to a one bedroom suite with a view of the Burj Khalifa.
Last year, I had the privilege of being invited to a private event in Delhi, a watch launch event. I had the opportunity to mingle with celebrities like Ranveer Singh, making it a truly memorable experience. So I definitely feel that this card is undoubtedly the best card in the world, in one word "CONVENIENCE".
Is Amex Centurion Really Worth the Huge Fees?
To be honest, whether Amex Centurion is worth the substantial fees depends entirely on your individual needs and lifestyle preferences. This credit card is best suited for high spenders. If you typically spend between 2 to 5 lakhs per month, the Amex Platinum card might be more suitable for you. While it is possible to recover the fees you pay for Amex Centurion, it requires significant spending. It's important to remember that what works for me may not work for everyone else. Amex Centurion is often perceived as a card for flaunting wealth, but in reality, it is substantially beneficial for a few selected individuals.
In summary, Amex Centurion is a truly prestigious and advantageous credit card designed exclusively for a limited number of individuals. If you are seeking a credit card primarily for its rewards program, there may be better options available. However, if you are a high spender and the Centurion benefits align with your lifestyle, then this credit card could be a worthwhile choice.